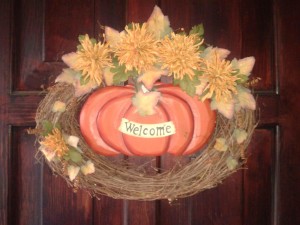 Like most seasons throughout the year I enjoy decorating our home for each of the different holidays and Halloween is no exception!  I try to keep the decorations fun with just a touch of elegance.
Let's start on the front porch … every year I place two artificial pumpkins outside near the potted plants.  Usually I will add several more real pumpkins that we will later use to make roasted pumpkin seeds and my husband's delicious pumpkin pies for Thanksgiving dinner.  Next, I placed a wooden "Trick or Treat" black cat into the potted plant for a whimsical Halloween touch and I also added several long-stemmed sunflowers.  Just under the front porch overhang I hung a quirky "Enter If You Dare" wooden sign and on the front door I hung an oval fall wreath decorated with golden chrysanthemums and autumn leaves.  After Halloween I will attach a resin oval pumpkin that has a small metal "Welcome" sign to the Autumn wreath.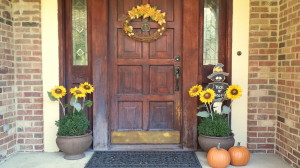 In our entry foyer is a low wooden bench and I placed a three foot high scarecrow which holds a wooden sign that says, "Welcome Happy Harvest", that is decorated with sunflowers and berry sprays.  Next to the bench is a wooden pedestal with a floral arrangement of white rose and during the fall season I add several peasant feathers to the arrangement for a festive touch.  This year I change the picture on the wall with a new Halloween "Trick or Treat" sign that I recently made.  (For more information and instructions on how to create this one of these for your home, please check out this month's Craft post, Halloween signs)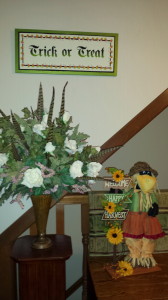 To the right of the entry is our library and in this room is an oak wooden lawyer's bookcase which holds my Boyd's Bear collection.  As discussed in a previous post, Displaying a Boyds Bear Collection Part One, I usually decorate the bookcase for each of the different seasons and holidays throughout the year.  For Autumn I added several acorns and oak leaves to the Boyds figurines to the top two shelves.  On the bottom shelf of the bookcase my Boyds Bear Village is displayed and this will also get a seasonal change.  This year I added several cornstalks and sunflower plants, I had searched in the local craft stores and couldn't find any that I liked or were the size that I needed.  Finally, I found plastic cornstalks and small sunflower buttons.  I added small berry seeds to the cornstalks that would resemble ears of corn and for the small sunflower buttons I added twigs to resemble stems.  To finish the display I add a group of Halloween trick or treaters.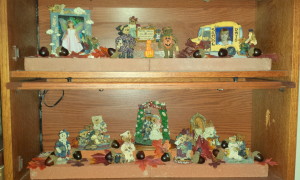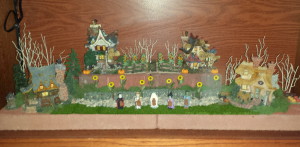 Moving on to the family room, I decorated the fireplace mantel with artificial pine boughs and layered on sprays of berries, grapes and burgundy colored magnolias to create a festive autumn floral arrangement and on either side I finished the display by adding two scarecrows.  To the left of the fireplace is a bookcase that has a display of family photos that are displayed year-round.  For Halloween I removed some of the photos in a few of the gold frames and exchanged them for other photos of my children wearing some of my favorite Halloween costumes.  To the right bookcase I replaced a photo with a cute photo of my dog when she was wearing her Halloween costume.  To give the photo a festive look I add simple scrapbook letters in the shape of bones that spell out "Happy Halloween".  These simple changes are a wonderful way to add some seasonal style in an easy way.  To the bookcase I also added a few wooden pumpkins and a special ceramic pumpkin that my daughter made years ago.  Also displayed in the bookshelf is a display of the Disneyland Haunted Mansion decorated as Tim Burton's Nightmare Before Christmas.  (For more information about this entertaining 1993 Disney movie, please see this month's post, the Nightmare Before Christmas movie)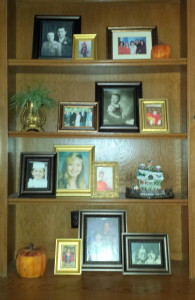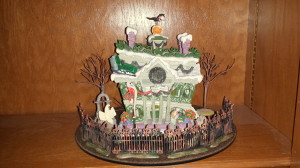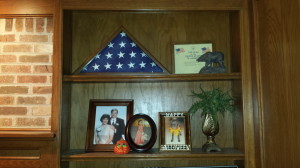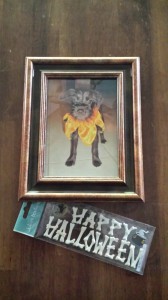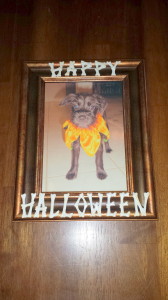 The next room to be decorated is the kitchen.  On one side of the kitchen sink is a next to a basket of artificial vegetables where I placed a small resin pumpkin and on the other side of the sink I placed a Halloween witch.  On the granite top kitchen island is a lovely ceramic pitcher filled with ivory sunflowers and for an unexpected touch I've added several peacock feathers.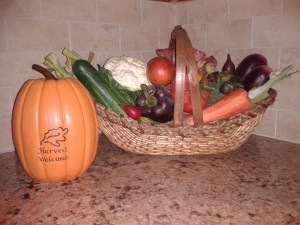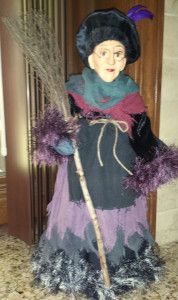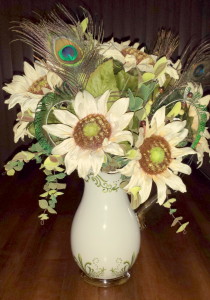 Across the room there is counter desk area with cabinets overhead.  In the space above the cabinet I removed the sign that is usually there year-round and replaced it with a Halloween sign I made recently that says "Eat drink & be scary" that is decorated with spiders.  Next to the sign I placed a large ceramic pumpkin and a black cat stuffed toy to complete the display.  (For more information and instructions on how to create a seasonal sign your home, please check out this month's Craft post, Halloween signs)
The room to be decorated is the dining room.  Currently there is a lovely floral arrangement of gold roses that usually is displayed with an antique doily on the dining room table.  The color of the roses is still appropriate for the autumn season and will remain there until I set the dining room table for our thanksgiving dinner in November when I have some wonderful plans for some festive decorations.  (Please check next month for a Décor Post, Thanksgiving table Decorations, for more information and photos)
The finishing touches to the dining room are two different jeweled pumpkins that I made this year.  The first one was very easy; it is a plain ivory ceramic pumpkin that I bought from a local craft store which I decorated with black crystals and spiders. for an elegant Halloween Pumpkin.  This elegant Halloween pumpkin sits on top of the tall cabinet near the dining room table.  The other two pumpkins are also very easy to make, they are small bisque pumpkins that I bought from the craft store and painted in a beautiful bronze metallic color with the stem painted a pale green metallic color.  Then to add a little sparkle I glued individually placed beautiful dark topaz crystals.  The pumpkins are placed into two Nortiake Rothschild teacups and displayed in the china cabinet.  (For more information about creating these elegant pumpkins, please check out this month's Craft Post, Jeweled Pumpkins)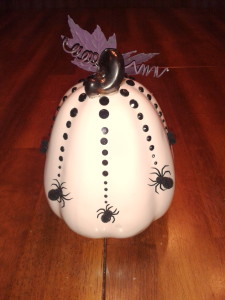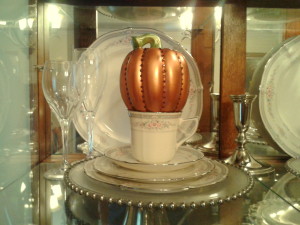 The last few items that I want to share when I'm decorating for the Halloween season are handmade decorations that my Mom made several years ago.  Now that she passed away, these decorations have become very sentimental to me and eventually they will be passed onto my children so that they will have something to cherish from their grandmother.  The first is a fabric witch with pipe cleaner arms and legs riding on a broom that my mother crafted almost 35 years ago and it has hung in all the houses that I have lived in since my mother made it for me.  The second is a fabric bat that my mother made around the same time and it has been a part of my annual decorations for years.  The third item is a large fabric cat that my mother made and I use as a pillow decoration of our sofa or recliner chair.  Bringing these decorations that my Mom created and displaying them every Halloween just puts a smile on my face!