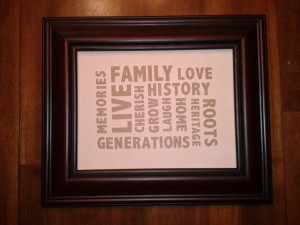 I was recently inspired by a photo I saw on Pinterest.  It was a simple piece of artwork using words arranged in a pattern and displayed in a beautiful frame.  It looked like an easy craft project to try with only a few supplies required.  The "Words as Art" took less than 30 minutes and the completed artwork looks great hanging in the hallway in our home.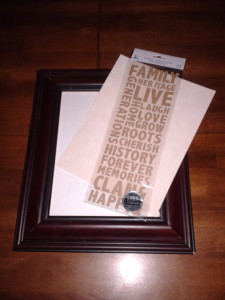 Words into Art – supplies
Frame
Scrapbook word or letters stickers
Scrapbook paper used as decorative backing
Scissors
Glue (optional if self-adhesive stickers are used)
Mat frame (optional)
Words into Art – instructions
Remove glass and backing from frame.  If you are using a mat, purchase one with an 8 X 10" opening to fit a larger frame, this will create a border around the "words".

Cut scrapbook paper to fit the 8 X 10" opening of the frame or mat.  (Scrapbook paper generally comes in two popular sizes, 12 X12" or 8.5 X 11")  For the selection of scrapbook paper I would suggest a solid color because it won't distract from the "words".  For color selection there are two choices, one is a background that blends with the "words" color for a soft effect or the other is a background that contrasts with the "words" color for a bold effect.

Scrapbook word stickers are available in a variety of sizes and fonts.  Some are pre-packaged with different words; look for ones that are a solid color with a slight depth to create the dimension needed for this project.  If you can't find the "words" you want, create them from individual letters made of foam or cardboard.

Prior to attaching the "words" to the scrapbook paper, select the placement to fit into the 8 X 10" area.  Experiment with a variety of different positions until you are pleased with the arrangement.  If you are using a mat, be sure to lay the mat over the scrapbook paper and "words" to be sure that everything fits within the mat opening and does not cut-off the "words".  Once you determined the placement of the "words", attach them to the scrapbook paper working from the center to the outer edges.

Attach the scrapbook paper with "words" to the frame backing.  I would suggest only replacing the glass if it is the non-glare type, if it is a standard glass type the glare of the glass will be distracting to reading the "words" and not as visually appealing.
This craft idea would also make a great gift for a birthday, new baby, wedding or housewarming gift; just choose the appropriate "words" for the occasion.  Another idea is to choose one word and repeat it several types in a variety of different sizes and fonts.  Use the person's first name for a birthday or new baby gift and the last name for a wedding or housewarming gift.