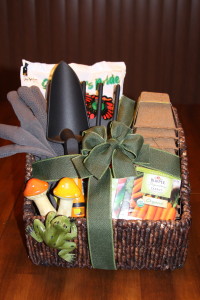 Springtime brings Easter and the weather starts to turn a little warmer and our thoughts turn to the outdoors and planning our gardens.  A Spring Garden Gift Basket is a wonderful craft idea with everything inside the basket that a person would need for inspiration. Consider bring one to an Easter celebration as a gift for the host/hostess.  The basket would also make an excellent birthday gift for your family/friends or perhaps for a new neighbor as a thoughtful welcome gift.  The Spring Garden Gift Basket can be as simple or elaborate as you wish but the amount of the items used is determined by the size of the basket you choose.  Here are a few suggestions: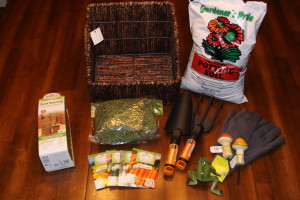 Spring Garden Basket  – supplies
One basket
A package of moss, used to fill the bottom of the basket
3 – 4 small pots
Potting soil, enough to fill the pots
1 large zip-loc plastic bag for the potting soil
3- 4 seed packets
Garden tools
A pair of garden gloves
Several artificial flowers for basket decoration
A small garden-themed accessory (I am using a "pot-hanger" frog)
Raffia for a bow and a gift tag
Spring Garden Basket – instructions
In a large zip-loc plastic bag add enough soil to fill the pots.  Be sure to seal the bag securely.  Stuff newspaper in the bottom of the basket; place the bag of soil on top.  Cover completely with some moss.
Arrange the pots, seed packet and garden supplies in the basket.  Insert some artificial flowers for addition basket decoration.
Tie a raffia bow onto the basket, attach the small garden accessory.  Be sure to include a gift tag to the basket.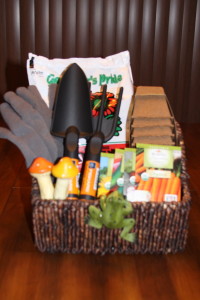 Additional ideas and suggestions
Using a tiny water can as an accessory, fill it will some moss and insert a gift card to the local garden shop.
Depending on the size of the basket used, consider adding a gardening book.
Instead of using artificial flowers for the basket decorations, consider adding an African violet or miniature rose plant.