In honor of Grandparent's Day, which is celebrated on the first Sunday in September, here is a simple craft idea for a sentimental way to remember and display photographs of those grandparents that are no longer with us.  My parents have been gone now for several years and this year I wanted to display their photos in our home in a special way for my children to remember their maternal grandparents.
Shown below are two different ways that I could display each of the photos of my parents which are framed using ivory mats and simple wooden frames.  Each version features items that hold special meaning –
Father/Grandfather photo frame
The first version uses items that were once used by my father.  I used four wrenches from my father's tool box and arranged them around a simple wooden 5×7 frame holding the photo of my father.  Other ideas which could be attached to the frame are car keys, fishing hooks or golf tees.  Another idea for a bigger 8×10 frame would be to use a large single wretch, screwdriver, hammer or other tools.
The second version uses a personal item of my father, his stripped bowtie.  Other ideas for items that could be attached to the frame are cuff links, military id tags or maybe a special tie wrapped around the frame.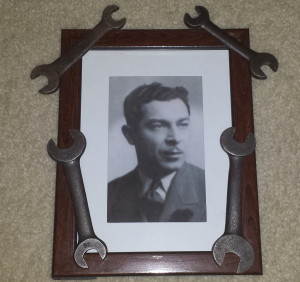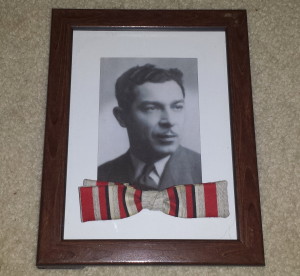 Mother/Grandmother photo frame
The first version uses items that were once used by my mother.  I used a string of my mother's pearls and a cameo that my mother gave to me as a gift.  I arranged the pearls in soft curves and attached the cameo at the top to cover the necklace clasp.  Both these items, one from my mother's personal jewelry and the other a special gift from her, have important meaning to me.  The second version features a pair of rhinestone fur clips which are attached to the bottom of the frame.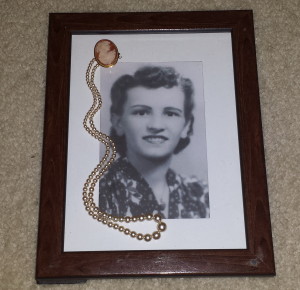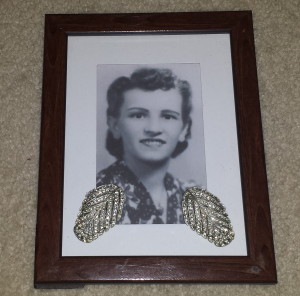 I hope these photo frames inspire the idea of creating and decorating Grandparent's Day photo frame to honor and remember those grandparent's that are no longer with us.
For more information about the history of Grandparent's Day and for additional gift ideas, please click on the link.