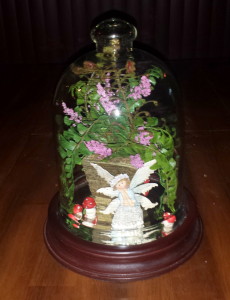 A couple of years ago I did a Craft post, Glass Dome Arrangement and at the time the popular trend in home accessories was a terrarium containers.  The arrangement was set on a cabinet in our home and I really liked it.  Another Craft Post that I did several years ago was a Butterfly in a Jar and that arrangement sit on the desk in my home office during the spring and summer seasons.
For this craft project, it was the end of summer I thought it would be a fun idea to "trap" a fairy under glass to keep throughout the fall and winter months until I could let her "escape" in the springtime!!
The Fairy Under Glass craft project was very easy and took less than an hour to create, I re-purposed most of the items used in the previous arrangements so the cost was keep to a minimum.  But, if you are going to create this craft project from scratch the items required are very inexpensive.
Listed below are the supplies and instructions for the Fairy Under Glass craft project.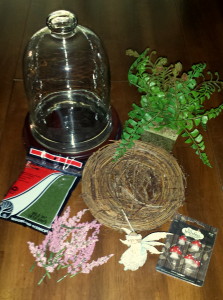 Fairy Under Glass – supplies
Glass container (the dimensions will be determined by the floral and fairy size)
Fairy figurine
Floral items (I used two different types of ferns and flowers to add color)
Artificial Mushrooms
Moss (optional)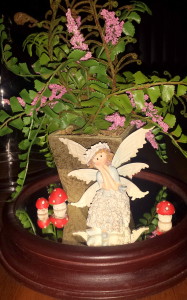 Fairy Under Glass – instructions
Prepare the glass container for the craft project, clean or dust if necessary
Arrange ferns and flowers (for this project I re-purposed the ferns from a previous arrangement and added flowers for a little bit of color)
Place the fairy figurine at the front of the arrangement (I add a little bit of sparkle paint to the fairy's wings to allow them to glimmer)
Scatter a few mushrooms around the fairy
(Optional) Add a little bit of moss to the arrangement, place some around the fairy and the mushrooms