Grandparent's Day is celebrated on the first Sunday in September and has been an official nationwide holiday in the United States since 1978.  As a result of the baby boomers, the number of grandparents is expected to rise from 65 million in 2011 to 80 million in 2020.  In recent years, grandparents have slowly become the choice of working parents that are in need of childcare.  Statistics from 2012 indicate that 30% of the children under five years old are cared for on a regular basis by a grandparent.
So, let's take the time to remember and honor the grandparents in our lives who have brought so much unconditional love and support into our lives.  Through my experience over the years in celebrating Grandparent's Day I have come to the wonderful conclusion that grandparents truly enjoy receiving homemade gifts from their grandchildren.  This is always a great idea because the kids get the pleasure of creating a truly personal gift for their grandparents and the grandparents are so happy to receive something special from their grandchildren, it's a win-win situation!!
Any kind of craft project using a child's handprint is a fun activity for the kids and the finished "artwork" is makes a wonderful gift idea for grandparents.  Here are a few craft ideas from previous blog posts: Childhood Handprints is a more traditional craft idea using your child's handprints and a lovely poem and Zoo Animal Handprints is a fun creative way of using your child's handprints and making them into zoo animals.  After the handprints are completed be sure to let the paint dry, then beautifully frame them to make a great Grandparent's Day gift.
Photos are also a great gift idea for Grandparent's Day.  My husband takes amazing photos and every time we see the grandparents we always try to take those great three generation photos, on my husband's paternal side he is very lucky to have four generations.  These types of photos are great to copy and send with Grandparent's Day cards or enlarge the photos and frame them to make wonderful gifts.
A few years ago when my Mom came to visit shortly after we moved to the Midwest we were taking our traditional three generation photos and I thought, "let's do something fun and different", so we took a photo of our hands.  It made an interesting photo of the contrast of a grandmother, mother and child hands.  Of course, I made an enlarged copy of the photo and it was an unusual and great idea for a Grandparent's Day gift.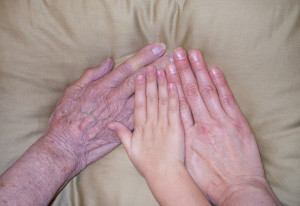 Listed below are some ideas and suggestions for Grandparent's Day gifts –
Create a handmade card instead of a store-bought one.
When giving or sending a card, it is a great opportunity to include the grandchildren's school photos.
Beautifully frame a picture drawn by the kids.
Create a collage of 10 -20 photos of your children with their grandparents.
Using photos, create a personalized calendar, be sure to note family birthdays and anniversaries.
Help the kids bake a special dessert treat, make sure to consider the grandparent's dietary needs such as sugar free cookies or cakes.
Cook dinner at their home, bring a bouquet of flowers and set a beautiful table, this is a great idea for grandparents that are home-bound and have mobility restrictions.
Have the older children offer to do chores for the grandparents, such as: cleaning the house or yard work.
Arrange to go over to their home for an afternoon or evening of playing cards or board games.
For out of town grandparents, plan ahead to have a delivery of flowers or food items.
Plan a private recital for the grandparents if your child has a special talent like dance, choir or playing a musical instrument.
Finally, here is a wonderful and easy craft idea –
Trace the handprint of the child, parent and grandparent individually onto a piece of paper; be sure to use the same right or left hand for all three hands.
Cut out the traced hand prints.
Arrange the "hands" by stacking the grandparent's first, then the parent's and use the child's hand on top since it should be the smallest one, or arrange them side-by-side from oldest to youngest person.
Once you are pleased with the arrangement glue them to another piece of paper.
Be sure to write the date on the bottom portion of the paper.  Next to each individual hand write the person's name and age.