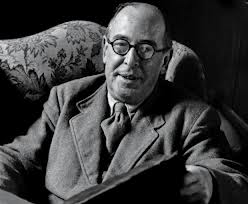 Hello, it's Jeff again here to talk about one of my favorite authors, C.S. Lewis (or Jack as he was known by family and friends). He was born on November 29th, 1898 and died November 22, 1963.  I'm not sure how I stumbled across his books, but I remember reading "The Lion, the Witch and the Wardrobe" and then the rest of the series when I lived in California in 1976. I remember checking them out of the library repeatedly during that year.  Fortunately, I purchased them at a book sale because the library burned down in 1982, and unfortunately I only have one or two of those volumes now.  Before I move off the topic of the Narnia series, if you are going to read them, be sure to read them in the original order, starting with The Lion, the Witch and the Wardrobe.  Later versions of the series put "The Magician's Nephew" first, which while chronologically correct is not how they were published.  (The Magician's Nephew is my least favorite of the series)
Before delving into his works, let's take a brief look at CS Lewis' biography (a more complete biography can be found here or here).  He was born in Belfast, Ireland to a lawyer and the daughter of a priest.  When he was four, his dog Jacksie was killed by a car and he took on the name, later shortened to Jack, which he kept for the rest of his life. (Sorry I digress a little, but during the research for this post I came across some interesting information – Dublin  only had 38 cars in 1900, so there could not have been many cars around at the time!)   Anyway,Lewis attended a number of schools and had a number of different private tutors until he received a scholarship to Oxford in 1916.  In 1917 he joined the military and was commissioned in the 3rd Battalion of the Somerset Light Infantry.  In 1918 he was wounded in the legs, arms and chest by a friendly fire incident when a British shell fell short.
After the war he returned to Oxford to continue his studies.  The story goes that Lewis made a pact with his roommate "Paddy" Moore that if either were killed in the war the other would take care of their friend's family.  Since his friend had died, once back at Oxford Lewis arranged to have Jane Moore, Paddy's mother, and her daughter move in with him. Historians question the nature of their relationship (she was 17 years his senior) but all agree he cared for her until her death in 1951 and called her Mother (his own mother had died when he was 10).
Lewis completed his studies in 1924 and was made a Fellow at  Magdalen College where he taught philosophy, English and literature for the next 29 years.  During this time he met J. R. R. Tolkien and started a lifelong friendship.  Long discussions on religion with Tolkien eventually led Lewis back to Christianity, a faith he had abandoned when he was 15.  Their association eventually led to the creation of the Inklings, an informal,  jovial group of writers that met regularly to discuss fantasy literature and Christianity.  This group included such notables as:  Charles Williams, Hugo Dyson, Owen Barfield, Dr. Robert Havard, Weville Coghill, Lewis's brother Warnie and Christopher Tolkien.  In 1955 Lewis accepted the newly formed Department of Mediaeval and Renaissance Literature at Cambridge University where he worked until he died in 1963.
Lewis was a very prolific writer.  While the Narnia series is one of Lewis' best known series, with over 85 million copies sold and many movies about the series, he wrote many books in many genres over his lifetime.   They include children's books, science fiction, non-fiction and christian apologetic.  His most notable works are:  The Chronicles of Narnia, Mere Christianity, The Allegory of Love, The Screwtape Letters, The Space Trilogy, Till We Have Faces, Surprised by Joy: The Shape of My Early Life.
As I previously stated, C.S. Lewis is one of my favorite authors.  In addition to the Narnia series I also like
The Screwtape Letters
.  This is a story about a low level demon trying to corrupt a soul.  It is told in a series of letters between  the senior Demon Screwtape and his nephew Wormwood, a junior tempter.  I also enjoyed the Space Trilogy, starting with
That Hideous Strengh, 
followed by
Perelandra
and
Out of the Silent Planet, 
although the final volume wasn't really to my taste.
Many of Lewis' works have been made into movies and radio dramatizations.  I particularly like the Family Radio Theater version of the stories.  There are also several live action movies and radio dramatizations created by the BBC of Narnia that are quite good.  Of course there are the Disney movies that started coming out a couple of years ago that are also very good.  My only complaint is that they changed the plot in my mind unnecessarily, particularly in The Dawn Treader.  Others have different complaints such as can be found in this article about the opening of "The Lion, the Witch and the Wardrobe" movie.  This being said, the movies are very entertaining and well worth watching.
I hope this post has been interesting and informative.  Please send me a comment, I would love to know your favorite CS Lewis book or movie … and it would be nice to know someone read all the way to the bottom of this post!
Jeff Jones