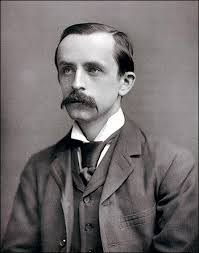 Today's post is in honor of J.M. Barrie (born: May 9, 1860  died: June 19, 1937) who was the famous author of the classic children's story "Peter Pan".  Growing up as a child my first exposure to the story was the 1953 animated Disney version of "Peter Pan" and over the years I have seen several productions of the wonderfully staged "Peter Pan" play.    I enjoy the story about Peter, the boy that never grew up, and his band of Lost Boys that lived far away in Neverland and I'm sure everyone also remembers the other wonderful characters, such as the sinister Captain Hook and his comical sidekick Smee, sweet Wendy Darling and her two brothers and of course the magical pixie named Tinkerbelle.
James Matthew Barrie was born in Kirriemuir, Angus in Scotland.  His father, David, was a local weaver and his mother, Margaret Ogilvy, had a large family of ten children.  Tragedy was to strike the family when Barrie's brother, David, died in an ice skating accident just before his 14th birthday.  Barrie's mother was devastated by the loss of her son but strangely she found comfort in the fact, that in her memories, David would remain a young boy forever and that he would never to grow up and leave her.
As a child, Barrie went to several different local schools and at the age of 14 he was sent away to the Dumfries Academy where his older brother and sister, Alexander and Mary Ann, were teachers.  During Barrie's childhood he had developed a love of reading and he read everything from classic literature, such as "Robinson Crusoe", to the inexpensive adventure stories of the time known as "penny dreadfuls".  While Barrie was away at school, he enjoyed spending time with the other boys and one of their favorite games was playing swash-buckling pirates.
While in school, Barrie formed a drama club with his fellow students and he was very good at storytelling and even wrote several of the plays for them to perform.  As he grew older, Barrie knew he wanted have a career as a writer.  His family was unhappy with this decision and pressured Barrie to continue his education at university.  A compromise was reached and Barrie would enroll at the University of Edinburgh and he would study literature.  He went on to graduate and received his M.A. degree in 1882.
While at university, Barrie found work writing drama reviews for the Edinburgh Evening Courant and after graduating he became a journalist for the Nottingham Journal.  He worked there for almost two years and then returned to Kirriemuir to concentrate on writing original stories which were inspired by his mother's childhood and set in a fictional town of Thrums, the stories also depicted the Auld Lichts, which was a strict religious sect that Barrie's grandfather had belonged to.  Barrie submitted the stories to a London newspaper and they were published by the St. James Gazette.  Eventually these stories served as the basis for Barrie's first novels, "Auld Licht Idylls" (1888) and "A Window in Thrums" (1890).  The stories proved to be popular, sold reasonably well and helped to established Barrie as a successful writer.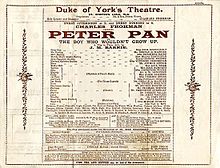 Barrie also wrote theatrical plays, the first few turned out to be critical failures but he continued to write.  His third play featured a young actress named Mary Ansell and Barrie quickly fell in love, proposed and they were married on July 9 1894.  Barrie bought Mary a Saint Bernard puppy and he wrote this furry character into one of his novels, "The Little White Bird", later known as "Adventures in Kensington Gardens".  "The Little White Bird" was published in 1902 and featured the memorable character of Peter Pan.  Eventually, this popular novel became such a critical and financial success for Barrie that it soon lead to the theatrical stage production of "Peter Pan" which premiered on December 27, 1904.
Unfortunately, during this time the Barrie's marriage had proven to be an unhappy one and Mary had an affair.  To avoid the scandal of a divorce, Barrie offered her a legal separation if she agreed to sever ties with the other man.  Mary refused and Barrie sued for a divorce on the grounds of infidelity and it was granted in October 1909.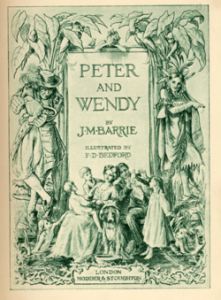 Barrie found solace in his work and in 1911 he wrote another novel entitled "Peter and Wendy" that told the story of the "forever young" boy, the adventurous Peter, who meets Wendy Darling and her brothers.  Peter teaches the trio how to fly across the night sky of London to the island of Neverland where he lives with his band of Lost Boys, some of the other characters in the story include the fairy TinkerBelle and the pirate Captain Hook.
Barrie had created the story of Peter Pan for the sons of his close personal friend Sylvia Llewelyn Davies, who was a recent widow.  The name of the character of Peter Pan came from Peter for one of Llerelyn Davies' sons and Pan was for the mischievous Greek God of the woodlands.  It has been said that the character of Peter Pan was also inspired by Barrie's brother David who had died when he was a child and remained forever a young boy in the memory of his devastated mother.  Sadly, Mrs. Llewelyn Davies herself died a few years after meeting Barrie; he was named as one of the guardians of her boys and he unofficially adopted them.  Deeply affected by these personal events and his deep affection for children that he would never be able to have himself, in 1929 Barrie gave the copyright of the Peter Pan book and play to the Great Ormond Street Hospital, which is a children's hospital located in London.
Throughout his life Barrie had many famous literary friends and acquaintances, such as H.G. Wells, Arthur Conan Doyle, George Bernard Shaw, Rudyard Kipling and he corresponded from several years with Robert Louis Stevenson although they never meet because Stevenson was living in Samoa at the time.  Barrie was also friends with the Antarctic explorer Robert Falcon Scott; he was the godfather to Scott's son, Peter.  In his final hours before he died during his South Pole expedition, Scott wrote several letters to his family and relatives, and Barrie considered his letter from Scott one of his most cherished personal mementos and carried it with him for the rest of his life.  One of Barrie also met and told stories to the young daughters of the Duke of York, who was the future King George VI and the father of Princess Margaret and the present Queen Elizabeth II.
Barrie died of pneumonia on June 19,1937 and is buried at Kirriemuir next to his parents and two of his siblings.  The birthplace and childhood home is now a museum maintained by the National Trust of Scotland.
Honors and awards
Over the years Barrie received many awards and honors.  In 1913 he was made a baronet by King George V and in 1922 he was made a member of the Order of Merit.  In 1919 he was elected Rector of the University of St Andrews for a three year term and several years later Barrie served as Chancellor of the University of Edinburgh from 1930 to 1937.
A lasting memorial to the character of Peter Pan stands in an area of London's Kensington Gardens located near Hyde Park.  At the time, the character of Peter had appeared in his book, "The Little White Bird", Barrie was living in London and used the location as the setting for his story.  He wrote that Peter flies out of his nursery, out into the city and he lands in the Long Water area.  Magically overnight and with no advanced publicity, a statue of Peter Pan appeared on the same exact spot on May 1, 1912.  Barrie had commissioned Sir George Frampton to create the bronze statue and he worked on it in secret until it suddenly appeared as a surprise for the children of London.  The almost 10 foot high statue features Peter standing at the top of a tree trunk with several fairies, squirrels, rabbits and mice gathered around.
Of course, throughout the years, the story of Peter Pan and the other wonderful characters of the enchanted Neverland have held the imagination of the public since the book and the first theatrical production was performed.  There have been several versions of the play performed around the world, one of the most famous actresses to play Peter was Mary Martin on Broadway.  Probably the version that most children have seen is the 1953 Walt Disney animated film which features a magical adaption of Barrie's play.  In 1991, Steven Spielberg produced the movie "Hook" (starring Robin Williams as Peter and Dustin Hoffman as Captain Hook) which tells the story of the older grown-up Peter who seems to have forgotten his childhood and his memories of living in Neverland.  Another great movie is the 2004 Warner Bros. film "Finding Neverland" (starring Johnny Depp playing J.M. Barrie and Kate Winslet playing his friend Sylvia Llewelyn Davies) which tells the story of how Barrie came to write the tale of Peter Pan.