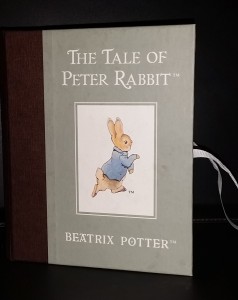 This Spring I decided to make a special Beatrix Potter-inspired Decoration to display in our home for the Easter holiday.  Over a hundred years ago, an English author and illustrator named Helen Beatrix Potter (Born: July 28, 1866 Died: December 22, 1943) published her first book "The Tale of Peter Rabbit" in 1902.  Eventually she would write a wonderful series of charming children's books featuring not only Peter Rabbit but Benjamin Bunny, Jemima Puddle Duck and also Flopsy, Mopsy and Cottontail to name just a few of the delightful characters.  (For more information about Beatrix Potter and the history of the Peter Rabbit books, please click on the link)
Several years ago I started to collect a series of Hallmark Peter Rabbit themed ornaments and I decided to use these to create several Beatrix Potter-inspired decorations.  These charming ornaments are beautifully detailed and readers might recognize them from photos of my annual Spring/Easter display in our china cabinet in our dining room.  (click on the link to see the photos)  Inspired by the beautiful illustrations that are featured in the books, I printed copies of lovely English countryside paintings done by Beatrix Potter and I used these as backgrounds for the craft projects.  
Special Note:  For this craft project, I had a unique Beatrix Potter "book" that I had found in a local retail store several years ago which I thought would be perfect.  I know this type of item was very unusual and probably could not be found again, so I have a solution! Purchase a paper mache "book", these are generally available in craft stores.  Copy the cover of a Peter Rabbit book and paste it to the front to create a similar Beatrix Potter "book".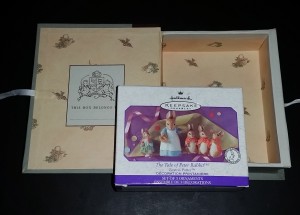 Beatrix Potter-inspired Decoration supply list
Beatrix Potter "book"
Beatrix Potter Hallmark ornaments (ceramic figurines could also be used)
Printed copy of a Beatrix Potter illustrations (to use for the background)
(Optional) Moss
(Optional) Floral stems
Hot glue gun and glue sticks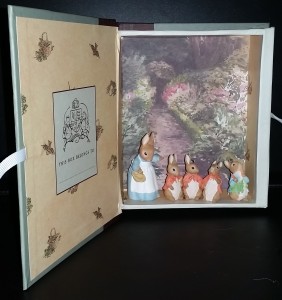 Beatrix Potter-inspired Decoration instructions
Search the internet to find a background picture for the shadowbox, print a copy in the appropriate size to fit.  (I found a Beatrix Potter illustration and printed a copy on our home printer)
Arrange the Hallmark Peter Rabbit themed ornament.  When pleased with the placement, hot glue the ornaments in position.
Option: To create an additional dimension to the shadowboxes for these enchanting characters to "live", floral stems and moss can be used.  Add the moss to the shadowbox to simulate grass, this will also cover the bottom of the ornaments
Shown below are two "shadowboxes" that I improvised using two beautiful frames: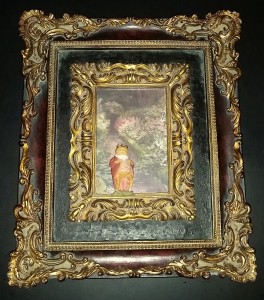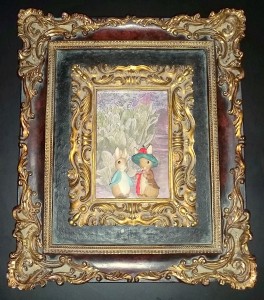 The Beatrix Potter-inspired shadowbox will make a great seasonal decoration for any home and can be hung on the wall, placed on a side table or set on a bookshelf.