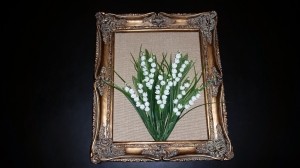 A few years ago I made a Framed Floral Decoration for Autumn which I displayed in our dining room for Thanksgiving.  (Please click on the link to view photos of this craft project)  Now, for spring I wanted to make another seasonal framed floral decoration and I decided to recycle the old display.  I re-used the golden frames that I had originally found in the clearance section at a local craft store that I had previously used for the autumn craft project and added some different flowers, greenery and a cloth-covered backing.
Listed below are the complete supply list and full instructions for the Framed Floral Decoration For Spring.
Supplies for one framed floral decoration
1 frame, any size (the frame's glass and backing are not used for this craft project)
1 cloth covered backing
Flowers, number of flowers needed is determined by the size of the frame
Hot glue gun and hot glue sticks
Optional – Painter's tape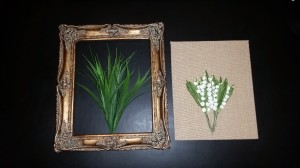 Instructions for one framed floral decoration
1.  Select a frame to use, remove the frame's glass or picture backing, you will not need them for this craft project.  Frames can be any size with an opening from a smaller size of 5 X 7" to a larger 10 X 13".  (I am using frames with a 5 X 7" opening)
2.  I used a pre-cut cloth covered backing  to fit the frame opening, but one could easily be made with a sturdy board with a piece of cloth stapled or taped to the backside
3.  Backing can either be taped into place with painter's tape or hot glue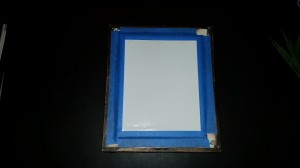 4.  Place flowers and other decorations into a pleasing arrangement and hot glue to the backing
Shown below in the photo is the finished framed floral decoration.  I think it looks wonderful in the dining room of our home.  I have used the same frames for both this Spring Framed Floral and also for the previous Autumn Framed Floral for two very different styles. Framed Floral decorations can be created for any season throughout the year, just use flowers or decorations that are appropriate for the particular holiday.