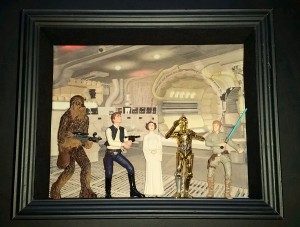 In honor of Star Wars Day, otherwise known as "May the Fourth Be With You", I decided to make a Star Wars shadow boxes.  A few months ago I made several Beatrix Potter shadowboxes for Easter using some Hallmark Peter Rabbit themed ornaments.  Throughout the years I have also collected Hallmark Star Wars themed ornaments for my son.  I only collect the characters from the original Star Wars series of three movies – "Star Wars Episode VI: A New Hope", "Episode VII: The Empire Strikes Back" and "Episode VIII: The Return of the Jedi".  Every Christmas I set up a small tabletop tree in my son's room and decorate it with the Star Wars ornaments, mini lights and small silver ball ornaments (click on the link to see the photos of the Star Wars Christmas tree)
So, for this craft project I decided to use these ornaments to create a Star Wars themed shadowbox.  This is a great way to decorate a boy's bedroom with some relatively inexpensive "artwork".  Heck, these shadowboxes could also be used to decorate other rooms of the house for any Star Wars fan!    
Star Wars-inspired Shadowbox supply list
Shadowbox
Star Wars Hallmark ornaments
Printed copy of a Star Wars photo (to use for the background)
Hot glue gun and glue sticks
Star Wars-inspired Shadowbox instructions
Disassemble the shadowbox by removing the backing (Craft tip: this is a good opportunity to make sure that both sides of the glass are clean, allow the glass to dry completely)
Search the internet to find a background picture for the shadowbox, print a copy in the appropriate size to fit.  (I found a Star Wars illustration of the Millennium Falcon and printed a copy on our home printer)
Arrange the Hallmark Star Wars themed ornaments in the shadowbox.  When pleased with the placement, hot glue the ornaments in position.
Reassemble the shadowbox, replace the backing and secure
The Star Wars-inspired shadowbox will make a great decoration for the home of any Star Wars fan and can be hung on the wall, placed on a side table or set on a bookshelf alongside the Star Wars DVDS to make a great display.