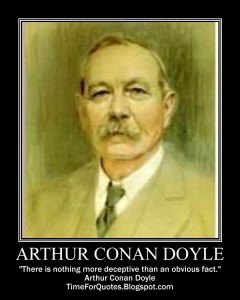 Hello, it's Jeff again.  I'm here to tell you something about the author of Sherlock Holmes.  Sir Arthur Conan Doyle was born May 22, 1859 to Mary and Charles Doyle. His full name was Arthur Ignatius Conan Doyle.   The Doyles were a prosperous family, but Arthur's father was an alcoholic and never amounted to much and his mother was the big influence in Doyle's life and gave him a passion for story telling.
When Arthur was nine wealthy relatives offered to pay for his education and in 1868 he was sent to Jesuit boarding school in England.  He hated the harsh punishment and bulling that he suffered in school.  While at school, he started writing his mother regularly, a habit he kept up until her death.   At school he found he had inherited his mother's gift for storytelling and frequently told stories to the younger students.  In addition to his storytelling he also excelled in sports, particularly Cricket.
The Doyle family was in the art business, but Arthur decided he wanted to be a physician and in 1876 he went to the University of Edinburgh Medical School.  While he was a student at the university he met many soon to be famous authors including James Barrie and Robert Louis Stevenson.  He also met Dr. Joseph Bell who was "a master at observation, logic, deduction, and diagnosis".  During this time he also starting writing short stories.  His first published work was "The Mystery of the Sasassa Valley" in 1879.   Before he graduated he took a job as a ship surgeon on the whaler called the Hope.  He greatly enjoyed that voyage and after he graduated he signed on as medical officer on the steamer Mayumba bound for Africa.  He detested Africa and resigned as soon as the ship returned to England.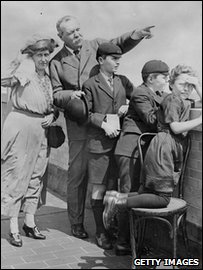 Arthur married his first wife, Mary Louise, in 1885 and they had two children, Mary Louise and Arthur Alleyne Kingsley.  After the death of his first wife from tuberculosis in 1906, he married Jean Elizabeth Leckie and had three additional children:  Denis Percy Stewart, Adrian Malcom and Jean Lena Annette.
After graduating from medical school Arthur became a partner in a medical practice in Plymouth, but the partnership was difficult and extremely challenging and he soon set up his own practice in Southsea.  While waiting for his clientele to build he wrote more stories.  Initially he struggled to find someone to publish his works, but in 1886 he was able to publish "A Study in Scarlet" which introduced the world to his most memorable characters, Sherlock Holmes and Dr. Watson.  Sherlock Holmes was patterned after his former professor, Dr. Bell.  At the time, what we call forensic science was just starting to develop and the general public was amazed at Sherlock's abilities and scientific process in solving crimes and Sherlock quickly became a world celebrity.
As the Sherlock Holmes stories became popular and Author's medical practice started to take off he had trouble balancing being both a good doctor and satisfying his passion for writing.  After a near death experience with influenza in 1891 he decided to give up his medical practice and focus on his writing full time.
Interestingly enough, Arthur considered the Sherlock Holmes stories "commercial" and felt they took too much time away from what he liked to write.  This is why in the story "The Final Problem" he killed off the character of Sherlock.  The public outcry over the death of Sherlock Holmes was so great that he eventually brought him back in 1901 in a flashback story called "The Hound of the Baskervilles" and finally permanently in 1903 in "The Return of Sherlock Holmes".  In 1902 King Edward VII knighted Arthur, for the contribution of his book "The Great Boor War", but rumor has it that the King wanted to persuade Doyle to write more Sherlock Holmes stories.  In the end he wrote 56 Sherlock Holmes stories and plays.  Many movies and television series have been made about Holmes over the years, including the popular BBC series "Sherlock" staring Benedict Cumberbatch and the American television show "Elementary" with Lucy Lu.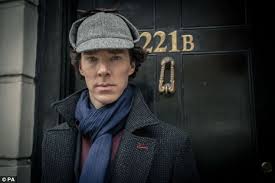 Arthur was a staunch supporter of the criminal justice system and he personally investigated a number of cases which exonerated the accused and eventually led to the set up of the Court of Criminal Appeal in England which was formed in 1907.  He also ran unsuccessfully for a house seat in Central Edinburgh.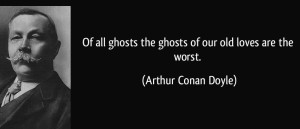 Probably the most controversial aspect of Arthur was his belief in Spiritualism the started after the death of his wife, son and several other close relatives.  He debated Joseph McCab on the claims of spiritualism at Queen's Hall in London.  He was friends with Harry Houdini until he tried to convince Arthur that his "powers" were only tricks and illusions and became an opponent of Spiritualism.
Over the last year I have written posts for this bog about several different authors that lived at the same time and I didn't know much about Sir Arthur Conan Doyle other the fact that he had written some of my favorite books.  After researching his life he appears to have been a truly good person who cared about his family and society in general. He died on July 7, 1930 surrounded by his family.   If you are looking for a more in depth biography, please check out the following website:  http://www.sherlockholmesonline.org/