Samuel Clemens (Born: November 30, 1835 Died: April 21, 1910) was an American author better known under his pen name of Mark Twain.  He is best known for his novels "The Adventures of Tom Sawyer" and the sequel "The Adventures of Huckleberry Finn".  The first was written in 1876 and the other in 1885.
Clemens life is forever link to the Mississippi River and he grew up in Hannibal, Missouri and later used it as the setting for his books about Tom Sawyer and Huckleberry Finn.  He held several different jobs, such as a typesetter, a printer, a writer for his brother's newspaper, a riverboat pilot and even tried gold mining in California.  While he was working on the newspaper he wrote a humorous story called "The Celebrated Jumping Frog of Calaveras County".  This story became one of Twain's first important works and was published in 1865.  Later books included Twain's first historical fiction "The Prince and the Pauper" published in 1882 and later "A Connecticut Yankee in King Arthur's Court" in 1889.
In his life Mark Twain achieved great success as a writer and public speaker. He became friends with presidents and European royalty and was known for his wit and satire.   A year before his death he is quoted as saying, "I came in with Halley's Comet in 1835.  It is coming again next year and I expect to go out with it".  This prediction came true and Twain died of a heart attack in 1910.
GIFT SUGGESTION:  If you are looking for gift idea for a teenage boy, I would suggest any of Mark Twain's books – Tom Sawyer, Huckleberry Finn, Prince and the Pauper or Connecticut Yankee in King Arthur's Court.  These four books would make a wonderful birthday or Christmas present.  Look for special, beautifully illustrated editions and they may cost a little more but would be a great way to start a young man's book collection.  Be sure to write a lovely inscription on the title page and these books will become treasured literary heirlooms.
In honor of Mark Twain's birthday, I would like to recommend a wonderful movie called "A Connecticut Yankee in King Arthur's Court".
"A Connecticut Yankee in King Arthur's Court" Movie Synopsis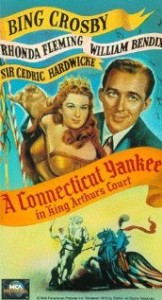 The movie begins in 1912 in England where Hank Martin (Bing Crosby), a mechanic from Connecticut, is taking a tour of the Pendragon castle.  He seems very knowledgeable about the castle and the former residents.  Eventually he winds up talking to Lord Pendragon (Cedric Hardwicke) about an accident where he loses consciousness and awakens in medieval England at the time of King Arthur.  He is befriended by Sir Sagramore (William Bendix) and challenges the great Merlin's magical powers by using modern technology and information gained from a Farmer's Almanac that was in his pocket at the time he was transported back in time.   Hank falls in love at first sight with the beautiful Lady Alisande (Rhonda Fleming), but it seems she is betrothed to Sir Lancelot.  When Sir Lancelot returns to Camelot to find that Lady Alisande has fallen in love with Hank, he challenges him to a joust.
Later, a young peasant girl comes to Hank to ask for help with her sick father and he goes to their house only to find that the father has died from the plaque.  He is appalled by the living conditions and treatment of the lower class in medieval England.  He gets King Arthur and Sagramore involved and they set off on a tour of the country disguised as peasants so the King can see what is really happening in his kingdom.  While the trio is gone, Merlin plans to steal the throne from King Arthur and Lady Alisande goes to warn them but they are captured and sentenced to death.  Suddenly, Hank is sent forward in time and finds he is back 1912 England.  Lord Pendragon tells him out to the castle balcony where he finds a woman who looks exactly like Lady Alisande.
I would definitely recommend this movie if you are looking for something to do on a Sunday afternoon or need a great family movie to watch.   Gather the family around in front of the TV, make some popcorn and enjoy a fun and entertaining movie!!