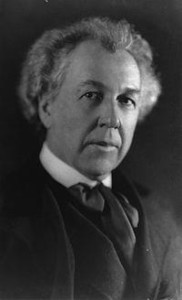 In honor of Frank Lloyd Wright's birthday, in Part One of the series on Wright, I will discuss his life and career as one of the most famous American architects.  In Part Two, I will highlight several of his famous buildings: Wright's home and studio in Oak Park, Illinois, Wright's home in Arizona known as "Taliesin" and perhaps his most famous and some would say his finest architectural achievement known as "Fallingwater" which is located in Pennsylvania.
The Personal and Professional Life of Frank Lloyd Wright
Frank Lloyd Wright (born: June 8,1867 died April 9, 1959) was a famed American architect.  He was born Frank Lincoln Wright (he changed his middle name after his parents' divorce to honor his mother's family name) in Richland Center, Wisconsin.  His father, William Wright, was a teacher, minister and lawyer and his mother was Anna Lloyd Jones.  His father's family had lived in Massachusetts and his mother's family was originally from Wales and had immigrated to Spring Green, Wisconsin.
One significant example of his mother's influence which would greatly effect Wright's future occupation as an architect can be traced back to his early childhood.  When visiting the Centennial Exhibition in Philadelphia Mrs. Wright, a former teacher, purchased a set of educational blocks by Friedrich Frobel, known as "Frobel Gifts" these blocks were used as part of his innovative German Kindergarten curriculum.  A young Wright played with these geometric shaped maple wood blocks using various combinations that he built into rudimentary structures.  Interestingly when looking at Wright buildings constructed throughout his career, distinct geometric shapes are prominently used in the architectural style.
In 1870, the Wright family moved to Weymouth, Massachusetts when Mr. Wright took a job as minister of a small congregation.  After struggling financially, the family returned to Wisconsin and settled in Madison where Mr. Wright found employment as the secretary for the newly formed Unitarian society and supplemented his income by also working as a music teacher.  Mr. Wright's musical appreciation would later influence his family, in particular his love of Johann Sebastian Bach.  (Wright would say years later that his favorite composer was Ludwig van Beethoven)  Sadly in 1885, his parents divorced after many years of an unhappy marriage and Mr. Wright left Wisconsin and severed any further ties with his children.
Wright attended Madison High School, but there is some confusion as to whether he completed his education there and received a diploma.  There are records that indicate Wright was enrolled at the University of Wisconsin – Madison where he was a part-time student for two semesters while he worked for a professor of civil engineer, Allan Conover.  Once again, he did not complete his course of education and he never received a formal degree.  (Many years later, in 1955 the University did award him an honorary Doctorate of Fine Arts)
In 1887, Wright moved to Chicago and intended to take advantage of increase construction job opportunities provided after the devastating Great Chicago Fire of 1871 which destroyed a large portion of the city.  Ultimately he found employment a draftsman for the Silsbee architecture firm but he only stayed a short time there due to the fact that the firm designed building in the heavily ornate Victorian style of architecture which was so popular with the public but Wright found unappealing.
Wright then found employment as an apprentice with the Adler & Sullivan architecture firm.  Despite the fact that Wright had problems getting along with the other employees, Sullivan saw something in Wright's design talent and gave him increased responsibility.  After Wright met and married his first wife Catherine "Kitty" Tobin in 1889, he arranged a small loan from Sullivan to build a home for his new family and in return Wright signed a five year contract with the firm.  A property at the corner of Chicago and Forest Avenue in a suburb of Chicago known as Oak Park was purchased.  The existing house on the site was given to Wright's mother and another home was built for him and his new wife to live in.
By this time, Wright was head draftsman with a private office.  In general Adler & Sullivan specialized in commercial buildings, but eventually Wright took commissions for private home designs which he worked on after his regular business hours for the firm in the evenings or on weekends in a personal studio set up at his home in Oak Park.  Although Wright would later claim full responsibility for these private homes in reality the general design was dictated by Sullivan, this was later confirmed through the firm's sketches, and Wright's contribution was often reduced to only specific details of these projects.
Throughout this time Wright struggled financially due to his extravagant lifestyle and the increasing size of his family who also spent lavishly.  Eventually to meet these increased expenses, Wright arranged private commissions which were separate from his work for the firm which he kept secret from Sullivan.  Finally Wright's private commissions were exposed due to the fact that many of the designs were copied from work the firm had done previously and this was quickly noticed and brought to the attention of Sullivan.  (Per Wright's contract with the firm, he was prevented from taking on outside work and it would led to his imminent departure)
Special Note: In his 1932 book, "An Autobiography", Wright claimed that he was unaware of conditions of the original contract and that Sullivan became very hostile after he found about these private commissions.  Sullivan severely restricted any more outside work and refused to issue Wright the deed to the Oak Park house until completed the required terms of the contract with the agreed upon terms being strictly enforced.  In turn, Wright claimed the conditions were unjust given his current financial circumstances and "he walked out of the Adler and Sullivan offices never to return again".  Eventually Dankmar Adler, the other partner of the firm, was deemed much more sympathetic to Wright and sent him the deed.
Wright opened his own architecture firm and into a space in the Steinway Hall Building which he shared with three other architects; Robert Spencer, Myron Hunt and Dwight Perkins.  Together they inspired the Arts and Crafts movement of a specific type of architectural design known as the Prairie School.  His first independent commission with his own firm was the Winslow House located in River Forest, Illinois which was completed in 1894 and it features simple horizontal lines and geometric shapes that have become typical with Wrights architectural designs.
By 1898, Wright had relocated his firm to his home studio as a means of bring both his family and his work together in one location.  This made perfect sense because, in regards to his personal life, Wright's family had quickly expanded with several children and it would be a means of actually spending time with his family.  A secondary point that justified the move was that the firm's current and upcoming projects were literally in the neighborhood of Oak Park or nearby River Forest and Wright could keep a close eye on the progress.  This decision to consolidate both his personal life and professional work into one location required that Wright's home studio, which had been previously used only by him, needed to be enlarged to accommodate his employees and was eventually relocated to the north side of the house.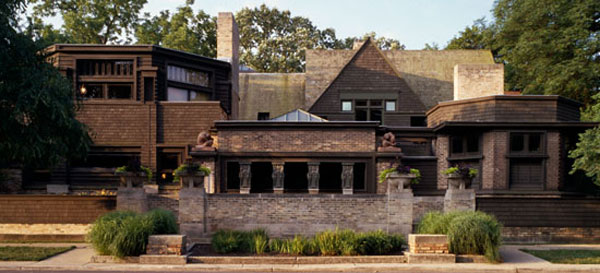 Over the next 10 years, Wright and his new firm would design and complete 50 projects mostly within the Oak Park area.  These "Prairie Houses" were specifically designed to complement the land which surrounded area around Chicago.  The exterior of the houses featured low profile buildings with sloping roofs, recessed chimneys and overhangs or terraces using unfinished materials.  The interior of the houses were designed with open floor plans featuring few walls or divisions between adjoining rooms and few obstructions creating the illusion of an expansive space.  Inspired by Wright's interest with Japanese architecture and design, he included windows whenever possible arranged long and low allowing the interior and exterior to connect together.
At this time, Wright had also taken a special and very personal commission to replace the Unitarian church in Oak Park which had burn down in 1905; he was a member of the church which was conveniently located less than a mile from Wright's home and studio.  The Unity Temple, church of the Unitarian Universalist Congregation, is located on the corner of Lake St. and N. Kenilworth Ave.  Constructed of reinforced concrete,  the Unity Temple is considered one of Wright's most important structures because of excellent and expansive use of a commercial space.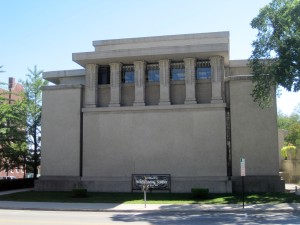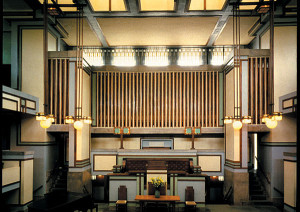 Unfortunately, in 1903 when Wright took on a commission to design a house for Edwin Cheney he had no idea it would bring about shame and scandal to his family.  In recent years Wright had gained a reputation in Oak Park was as a ladies man and he quickly became interested in Mamah Cheney, the wife of Edwin.  Mamah was a modern women and was regarded was an early feminist and Wright felt like her could speak with her on any topic considering her an intellectual equal.  The two fell in love but Kitty, Wright's wife, refused to grant him a divorce and neither would Edwin, Mamah's husband.
In 1909, Wright had increasingly become flustered with lack of large commercial building commissions and had grown tired of designing the Prairie Style houses.  He was offered the chance to publish a book of his work by a Berlin publisher, Ernst Wasmuth and he quickly saw it as both a professional and personal opportunity.  He planned an extended trip, he was gone almost a year, traveling from Germany to Italy to study European architecture and he also decided to take Mamah with him leaving both their spouses and children behind.  While in Europe, Edwin was granted a divorce from Mamah but Kitty still refused a divorce from Wright.
When Wright returned from his trip in October 1910 he knew he could not continue to live in Oak Park with his estranged wife.  The solution to the problem came when Wright persuaded his mother to purchase a large property adjacent to the land currently owned by the Lloyd-Jones (his Mother's relatives) family in Spring Green, Wisconsin.  By May 1911, Wright's new home was completed and he called it Taliesin.  The name was connected to his mother's Welsh heritage and the Celtic meaning is bard or a male poet.

Finally, after 10 years, Kitty agreed to the divorce from Wright but the under the terms of the decree required Wright to wait a full year before he could remarry.  By that time Wright and Mamah had parted company and Wright was involved with Maude "Miriam" Noel.  The couple married in November 1923 but due to Miriam's addiction to morphine the marriage last less than a year.
In 1924, Wright was separated from Miriam but not yet divorced when he met Olgiyanna "Olga" Hinzenburg and the two quickly fell in love.  Unfortunately, Olga was still married (she and her husband had a small daughter named Svetlana) but that didn't prevent her and Wright from moving in together at Taliesin in 1925, at the time Olga was pregnant with Wright's child, a daughter named Iovanna who was born in December of that same year.  Finally by 1927 Wright's divorce from his second wife was finalized and a year later Wright and Olgiyanna were married in August 1928.
After the drama of his personal life, his professional life was moving in an interesting direction.  Wright had moved from his Prairie Style design style toward a design he called "Organic Style" of architecture.  In the 1920s, he built several houses in California using concrete blocks reinforced with metal bars; this technique was used for the first time on the John Storer House located in Hollywood, California.  The 16 X 16 inch blocks were double stacked with an air gap between the blocks to provide insulation within the walls of the structure and then reinforced both horizontally and vertically with bars.  When completed, special care was then taken with the landscape plantings surrounding the structure to give the appearance of perfect harmony nature.
By the 1930s Wright had mastered the Organic Style of architecture and had used the technique to build Fallingwater located in Mill Run, Pennsylvania and Taliesin West which was Wright's winter home and studio complex located in Scottsdale, Arizona.  Fallingwater was built between 1934 and 1937 as a private residence for Mr. and Mrs. Edgar Kaufmann.  Uniquely constructed over a 30 foot waterfall, the three bedroom house was built in a series of cantilevered terraces which used limestone for the vertical and concrete for the horizontal elements.  At the cost of $155,00 is was one of Wright's most expensive commissions to date.  Unfortunately by the 1990s, Fallingwater was found to require structural reinforcement and steel supports were added to the lowest cantilever terrace and by March 2002 the project was completed.  Taliesin West was used by Wright as the firm's studio and was Wright's last residence from 1937 until his death.  Currently Taliesin West continues to be used as site of the Frank Lloyd Wright School of Architecture and is also the location of the Frank Lloyd Wright Foundation and Archives.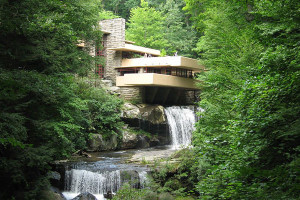 Finally, the Solomon Guggenheim Museum in New York City was the last project personally overseen by Wright and built during the last 16 years of his life.  The Guggenheim Museum building seems to rise in a unique spiral from Fifth Avenue.  Wright's original idea intended that visitors would take an elevator to the top floor and then view the Museum's artwork by slowly descending on a central twisted ramp which was designed to resemble the inside of a seashell but when the construction was completed Wright's design concept was generally ignored and today's the Museum art collection is arranged to be viewed by walking up instead of down the curved walkway.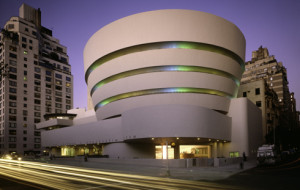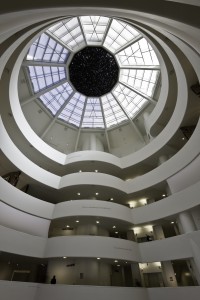 Frank Lloyd Wright died on April 9, 1959 at the age of 91 shortly after surgery performed in Phoenix, Arizona to remove an intestinal obstruction.  Wright was survived by his third wife Olga and the children from his three marriages, four boys and three daughters.  He was buried at the Lloyd-Jones cemetery near Taliesin, his beloved home in Spring Green, Wisconsin.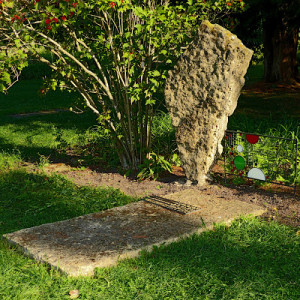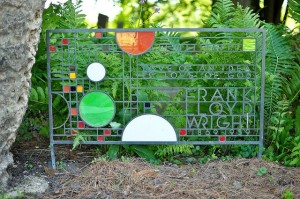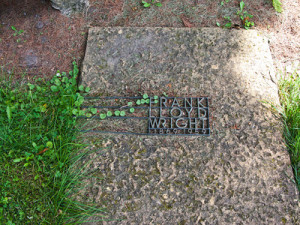 Twenty-five years later, Olga died in 1985 and it was her dying request to have herself and Wright cremated together and interred in a memorial garden in Taliesin West., Arizona.  The remaining Wright family members tried to fight the request and petitioned the courts in Wisconsin to have the architect's body remain at the Spring Green cemetery.  The final decision was made by Iovanna Wright, the daughter of Frank Lloyd and Olga, who signed the exhumation order.  There are some people that doubt that this is what the architect would have wanted given his close ties to the Midwest and Wisconsin in particular.  Another reason for doubt in granting the request was the emotional state of Iovanna given the fact that she had been living in a private sanitarium in Connecticut for several years.  Regardless of these circumstances, the ashes of Wright and Olga cremated together and then buried in Taliesin West, Arizona and the original grave site in Wisconsin is now empty but it is still marked with Wright's name.