Have you ever thought of displaying a special piece of jewelry?  Maybe you have a favorite brooch, a beautiful cameo, a lovely vintage pin or a sentimental vintage piece of jewelry from a loved one.  Take a look inside your jewelry box and I am sure you could find something that would look wonderful displayed on a side table in the bedroom or living room bookshelf.  Small inexpensive frames can be purchased at craft stores and the jewelry can be attached to pieces of velvet, leather of felt material or the frame itself.  When selecting a frame and material to display a piece of jewelry keep in mind the color, shape and style of item.  Shown below are a few of the jewelry pieces that I have framed and displayed in our home.
This first item of jewelry is a mother of pearl pin that I had during my childhood.  When I was a young girl living in Southern California as a special treat my mother would sometimes take us to the Farmer's Market shopping center for the afternoon.  We would drive over "the hill" on Mulholland Drive from the San Fernando Valley to Los Angeles.  There was a food court and various booths selling delicious things to eat and we would enjoy lunch there watching all the interesting people.  Farmer's Market also had several small stores selling all kinds of merchandise and one of those stores sold personalize wired jewelry such as pins and bracelets.  The pin that you see below is over fifty years old (can it really be that long ago!) and it is displayed attached to a small gold frame with a picture of me taken back in the 1960s.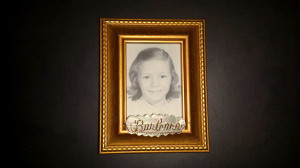 I enjoy shopping in antique stores and on EBay and I have purchased many vintage jewelry items over the years.  Vintage jewelry pieces look beautiful displayed in small frames and would add an elegant touch to any décor, such as side table in a bedroom.  Shown below is a piece of vintage jewelry that I purchased on EBay; it is a beautiful crystal fur clip.  (before it became "politically incorrect" to wear fur, sophisticated ladies would attach jeweled clips to their fur stoles or jackets)  The sparkling fur clip is attached to a piece of white velvet and displayed in a small gold frame.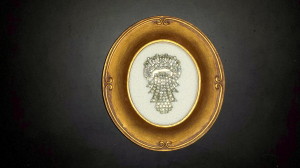 Traditionally, cameos are hand-carved three dimensional portraits or scenes on conch shells or semi-precious stones and look especially lovely in small frames displayed in a home.  The two framed cameos shown below are made of resin and they were purchased for a very inexpensive price from a source on EBay.  The first one is a large blue and white cameo that I attached to a piece of dark grey velvet and displayed in a small oval silver frame with stand that could be displayed on a table or bookshelf.  The second one is a smaller black and ivory cameo also attached to dark grey velvet and displayed in a small black oval frame trimmed in gold with black ribbon that could be used for hanging on a wall; this one is hung above a light switch as a decorative accent.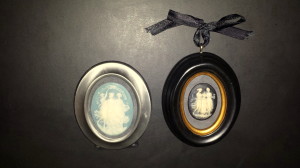 Another EBay item which I purchase from a source England can be seen below, it is a silver dragon pin that I bought shortly after our daughter was born in 2000 which was the Chinese Year of the Dragon.  It should make a great remembrance to mark the occasion and I hope when she is older she will display it in her home.  I found a round frame in a rustic brown color and I attached the dragon pin to a piece of leather to give it a distinct "medieval" style when it is displayed.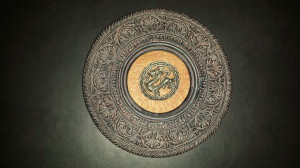 The next two pieces of jewelry are contemporary items purchased recently in a retail store.  The first one is a lovely blue enameled butterfly that it simply attached to a blue frame which holds a picture of my daughter taken on a recent road trip to Rocky Mountain National Park in Colorado.  I think the bright color of the frame and butterfly pin look great with the outdoor photo.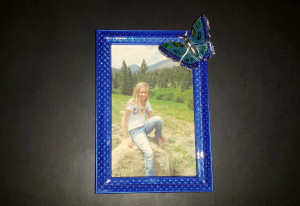 The next item is a black crystal spider pin that is perfect for displaying with a Halloween photo.  The pin is attached to a simple gold frame which holds a picture of my son taken when he was a vampire for Halloween.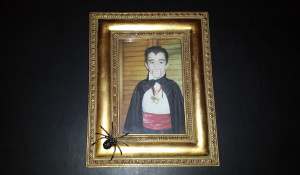 One thing to keep in mind when shopping for jewelry to display is that you are not limited to pins.  Here are some other suggestions:
Earrings – buy two sets and attach to each corner of the frame
Necklaces – drape a necklace from one corner of the frame to the other or you can buy several and attach around the frame opening
Next time you are in the jewelry section of your favorite retail store look for seasonal jewelry that would look great attached to a photo frame or if you are shopping at an antique store or on EBay look for great antique jewelry that you can frame and display.
Don't forget those sentimental pieces of jewelry, here are some suggestions:
A mother's or grandmother's brooch, earrings or necklace
A father's or grandfather's cuff links
A special cross or medal received for a first communion
A sport, dance or cheer medal attached to a frame
A soldier's dog tags or service medals