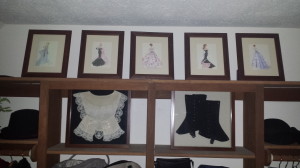 One of my favorite ways to decorate our home is with unusual items such as travel souvenirs, family memorabilia or framed collectibles.  I think it adds personality to a home and it also is an excellent way to open conversations with visiting family and friends.  My husband loves to give guests a tour of our home explaining the various items throughout the many different rooms.  For more information about those decorative items mentioned, please click on the links)
In this post I will give several examples of framed fashion items that are on display in our home.  But, before I start ….
One of my favorite things to do when traveling is to stop at roadside antique stores to browse through the many aisles filled with booths displaying all kinds of vintage items.  To me, it is almost like having a history lesson looking at the various household and clothing items and wondering how they were used in the years long past.  When shopping in these stores I always look for unique items with the intention that I could display them in our home as interesting and unusual "pieces of art"!
So, I will begin a tour of the framed fashion items displayed in our home by going into the large walk-in closet adjacent to our master bedroom.  In this room, directly in front on the far wall is wooden shelving that I use to store my shoes.  At the top I have displayed two framed fashion items, the one to the left is a women's silk collar and cuffs with crocheted trim set which are pinned to the padded fabric backing of a black shadowbox and the other one to the right is a pair of men's black felt spats which are attached in the same manner in a matching shadowbox.  I know it seems strange to display or hang decorative framed "pieces of art" in a closet but our walk-in closet is a very large room and when I found these two items in the antique stores I knew that they would look great!

The next items are not articles of clothing but framed fashion sketches that were originally from a Barbie calendar.  I selected five sketches of various styles of clothing and made color copies on my printer.  Next, using glitter glue, I embellished and highlighted certain features, such as the hem of the skirt.  This provided just the right touch to add an additional dimension to the sketches.  The five sketches were put into ivory mats and then matching wooden frames and set on top of the closet shelving.  I also felt that these sketches were appropriate pieces of framed "artwork" to display in our walk-in closet.

Fashion items do not always have to be displayed in a frame or shadowbox.  Another item that sits on the shelf in our master bedroom walk-in closet is a lovely green leather purse which holds a floral arrangement of pink roses.  This type of arrangement would also look wonderful on a bedroom dresser, nightstand or dressing table.  For more information on how to create one for your home or possibly to make as a gift for family or friends, please click on the link Floral Purse Arrangement.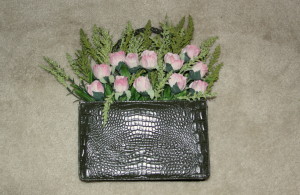 The final item that hangs on the wall in the walk-in closet is a blue evening purse but this lovely fashion item was not acquired from an antique store but purchased at a very inexpensive price in a local retail store.  Ever watchful for a bargain, I originally bought the purse in anticipation of using it at a formal occasion but since it was a clearance item on sale after the holiday season, it was in need of some improvement.  I removed the rhinestone handle and replaced it with a string of matching blue pearls with rhinestone roundell spacers that I felt would enhance the appearance of the purse better.  To finish the purse, I added a rhinestone brooch for extra sparkle.  Since formal occasions are attended infrequently, I decided to put in in a shadow box so I could look at it every day. (Craft note: Before considering this change, I confirmed that there was a metal loop that I would be able to attach the new string of pearls)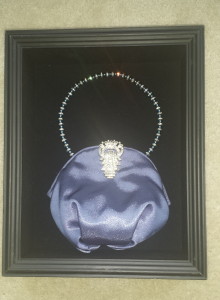 Below are shown two more examples of framed fashion items that are on display in our home.  The first one is very sentimental item; it is our daughter's baby outfits which she had worn at her baptismal party and it is pinned to the fabric backing of a white shadowbox.  I also included a baby photo of her in a small gold frame placed in the right bottom corner.  The second one is a black shadowbox which contains our daughter's 5th grade graduation t-shirt and it is hung in her bedroom, she likes looking at the names and remembering her classmates.  Displaying family memorabilia is a wonderful way to keep special moments and memories alive.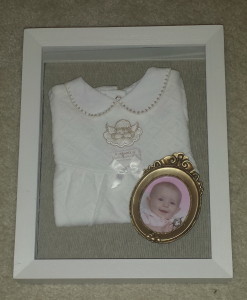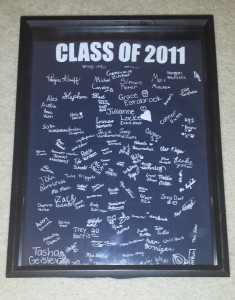 Be sure to check out this month's Craft post, Framed Fashion Item, for an easy project using a pair of ladies gloves.