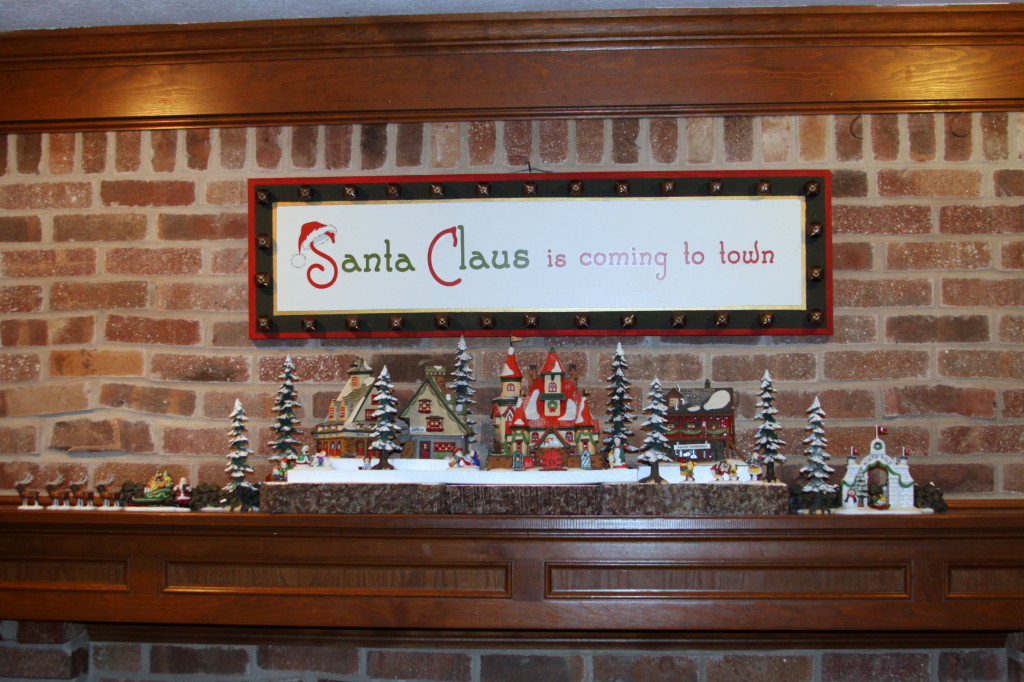 The Department 56 North Pole Village is one of the highlights of our Christmas decorations.  It brings me great joy to create something whimsical for the family during the holiday season.  Even with the same main buildings displayed every year; such as Santa's Workshop, Elves' Bunkhouse, Reindeer Barn and Santa and Mrs. Clause's Home and the North Pole Gate – the display can look different from one year to the next.
When I unpack the boxes from storage every year, I will try to arrange the various buildings and accessories in different ways.  Some years I will even display the Department 56 North Pole in a different room of the house.  Last year I added a mountain platform and a blue sky background.  Please, take a look at the photos below and see how the display has changed over the years.
So, if you have one of the Department 56 villages, think about displaying it in a new way or perhaps even in a different room.  Maybe purchase another building or accessory to add to the collection.  Suddenly, with a little creativity or spending just a little money, a Christmas village can look fresh and new.
History of the Department 56 Villages
Over 25 years ago Department 56 began as a part of the premiere retail florist, Bachman's, in Minneapolis, MN.  Bachman's used a numbering system to identify each of their departments and the number assigned to the wholesale gift department was 56.  Department 56 has been a leader in the collectible, home and holiday decorative products and is now a division of the Enesco Company.
Known for their Christmas Village and Snowbabies collections, the brand began with the Snow Village six ceramic houses in 1976.  Some of the names of the original houses were the Mountain Lodge, Gabled Cottage and Inn.  Currently the collection consists of over 225 pieces and accessories.
The Heritage Village Collection started with the porcelain Dickens Village in 1984.  The charming houses depict the time of Charles Dickens and are named for places or characters relating to the stories he wrote.  Some of the pieces are The Old Curiosity Shop, Scrooge and Marley Counting House and the Cottage of Bob Cratchit and Tiny Tim.
The New England Village was introduced in 1986 and includes churches, such as the Old North Church in Boston, lighthouses and other buildings and places in the New England area.
The Alpine Village collection started in 1986 and some of the pieces have very European names, such as Josef Engel Farmhouse, Bessor Bierkeller and St. Nicholas Kirche Church.
The Christmas in the City collection was introduced in 1987 and depicts American life from 1930 to1940.  Pieces include the Palace Theatre, Ritz Hotel, Dorothy's Dress Shop and St. Mark's Church.
The North Pole Series started in 1990 and the first pieces introduced were Santa's Workshop, Elf Bunkhouse and Reindeer Barn.
The Little Town of Bethlehem collection was issued in 1987 and there were only twelve pieces.
For further information on Department 56 Villages or to see what houses and accessories are currently available or to get additional ideas see their website.  www.department56.com