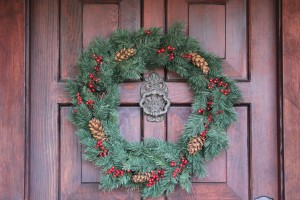 At Christmas time, I decorate with several different wreaths throughout the house; some are traditional in design while others are more whimsical.  There is always a wreath on the front door to greet our holiday guests in a festive way along with the other front porch decorations.   Every year it is a different one and I have a couple of wreaths that I rotate from year to year.  One it is a large pine wreath decorated with pinecones and red berry sprays, another one is a wreath covered completely with velvet holly leaves and then another is a pinecone wreath with holly leaves and red berries.
Christmas wreaths are not just for the front door – try using them in other rooms of the house.  We have a fairly large size kitchen that is open to the family room and there are several areas that I decorate for Christmas.  One area had a long counter work space with two chairs (this is where my daughter does her homework while I am cooking dinner).  I have a Department 56 gingerbread train that is displayed in the space above the cabinets with two large pine boughs and red "sugared" berries.  To complete this area, I hang two holly leaves and berry wreaths from the doors of the cabinets.  The decorations are out of the way so they don't take up any counter space and the wreaths are hung from long hooks so the cabinet doors can still be opened.
Other ideas for wreaths:
Use several baby themed ornaments on a wreath to hang from the door to the baby's room.
Use several Barbie ornaments on a wreath to hang from the door to a little girl's room.
Use several Matchbox cars attached to a wreath to hang from the door to a little boy's room.
Use seashells and starfish for a beach themed wreath in the bathroom.
Use screwdrivers and wrenches (check before using!) for a tool themed wreath in the garage.
Last month I posted a Craft project for a special Memory Wreath decorated with small photo frame ornaments.  For Thanksgiving I used family photos but for the Christmas season you can use photos from your children's visits to Santa or maybe use your children's school photos taken over the years.  It is a wonderful way to remember special times and to see how much your children have grown and changed!
For more wreath projects, please look for this week's Craft post.  I will show you how to create three unique wreaths using a collection of themed ornaments – two different Department 56 wreaths using small ornament houses from the Dickens and North Pole collections and also a Disney character wreath.
So, please let me know what you think of these wreath ideas or send me a photo of ones that you have made – I would love to see them!