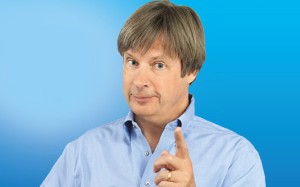 Hello, Jeff again.  Barbara says I have a weird sense of humor and if that is the case, Dave Barry has one too because I have been following him since his humor column was first syndicated and I love his work! While humor is his claim to fame me, he has written / co-written children's books, had several of his books made into movies and is a member of a band.
David McAlister Barry was born July 3, 1947 to Reverend David Barry (a Presbyterian minister) and a mother whose name is curiously not mentioned in any source I can find on the internet.  His father died in 1984 and his mother shortly afterwards.  I find this curious because I am convinced Dave cared deeply about his mother as can be heard in his record "Mama" and after she died he wrote about her death in "Lost in America".  Dave was born in Armonk, New York and went to Wampus Elementary School.  He was voted "Class Clown" at Pleasantville High School and went to Haverford College where he graduated with a Bachelor of Arts degree in English in 1969. Dave has been married three times, to Ann Shelnutt, Beth Lenox and now Michelle Kaufman and has two children, Rob Barry (1980) and Sophie Barry (2000).
After college he worked for the Daily Local News in West Chester, PA and then as a copy editor for the Associated Press before joining the consulting firm Burger Associates.  He then became the Humor Columnist for the Miami Herald in 1983 and that's when he became famous for articles like "Exploding Whale" and how to make grapes explode in a microwave.  I can't find a link to the grape article, but here is a related article about Microwave Grape racing.  I particularly like t-what he says before starting the races:  "My son, Rob, and I held some microwave grape races, after taking the standard precaution of making sure that my wife was not home."  His description of the Potato Gun still makes me laugh, especially comments like: "…a bazooka-sized device that can shoot a potato several hundred yards at speeds up to 1,000 feet per second. To give you an idea of how fast that is, an ordinary potato, on its own, will rarely travel more than four feet per day, even during the height of mating season."
Dave became a Pulitzer Prize winner in 1988 for Commentary:
Dave Barry of The Miami Herald
For his consistently effective use of humor as a device for presenting fresh insights into serious concerns.
 He has published many, many books including some of my favorites:
Babies and Other Hazards of Sex: How to Make a Tiny Person in Only 9 Months With Tools You Probably Have Around the Home (1984)
Claw Your Way to the Top: How to Become the Head of a Major Corporation in Roughly a Week (1986)
Dave Barry's Guide to Marriage and/or Sex (1987)
Dave Barry Slept Here: A Sort of History of the United States (1989)
Dave Barry's Gift Guide to End All Gift Guides (1994)
Dave Barry's Complete Guide to Guys (1996)
Dave Barry's Book of Bad Songs (1997)
Dave Barry Hits Below the Beltway: A Vicious and Unprovoked Attack on Our Most Cherished Political Institutions (2001)
"My Teenage Son's Goal in Life is to Make Me Feel 3,500 Years Old" and Other Thoughts On Parenting From Dave Barry (2001)
Dave Barry's Money Secrets (2006)
You Can Date Boys When You're Forty: Dave Barry on Parenting and Other Topics He Knows Very Little About (2014)
Dave Barry's Bad Habits: A 100% Fact-Free Book (1987)
Dave Barry is NOT Making This Up (1995)
Big Trouble (1999)
Peter and the Starcatchers (2004, with Ridley Pearson) series
Escape From the Carnivale (2006, with Ridley Pearson)
His book Big Trouble was made into a movie but the release was delayed because of the 9-11 attacks.  Then his Dave Barry Turns 40 and Dave Barry's Greatest Hits were made into a four season sitcom by CBS which ran 1993 to 1997. The show starred Harry Anderson as Barry and DeLane Matthews as his wife Beth. In an early episode, Barry appeared in a cameo role.  There are rumors that another book written by Barry, Peter and the Starcatchers, will be made into a movie by Disney.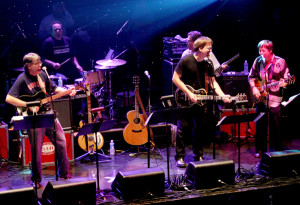 One thing I did not know about Dave was that he founded a rock band called "Rock Bottom Remainders" composed of other authors including Stephen King, Amy Tan, Ridley Pearson, Scott Turow, Mitch Albom, Roy Blount, Jr., Barbara Kingsolver, Matt Groening, and Barry's brother Sam, among many others. The band has raised over $2 million for charity and is described by Dave as "not musically skilled, but they are extremely loud."  You can find a little more detail on the band on Oprah's site here:  http://www.oprah.com/oprahsbookclub/The-Rock-Bottom-Remainders
Dave retired in 2005 to spend more time with his family, but still maintains a blog at http://www.davebarry.com/ and writes occasional columns for the Miami Herald including his yearly gift guide and his year-in-review feature. In addition to the Pulitzer, Dave was awarded the Fairfax Price and has a sewage processing plant named after him in East Grand Forks, MN. He also can be hired as a motivational speaker for $20,000 to $30,000 per engagement.  To quote Dave himself "I'm not making this up."