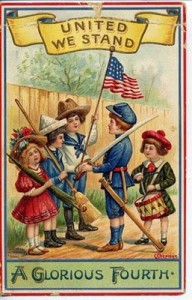 Fourth of July, also known as Independence Day, is a federal holiday which celebrates the United States declaring their independence from England.  This summer day is usually means fireworks and barbecues or a day for family picnics and a trip to see a baseball game.
Representatives from the thirteen colonies meet in Philadelphia, Pennsylvania during the American Revolution.  In June of 1776, the representative from Virginia, Richard Henry Lee, proposed that the Unites States declare their independence from Great Britain.  The Continental Congress voted to approve the resolution on July 2, 1776.  The representatives formed a committee of five members to prepare a Declaration of Independence.  The chief author of the document was Thomas Jefferson and over the next couple of days the Congress debated and revised the wording until finally approving it on July 4, 1776.  This is the day that Americans have come to celebrate.
Independence Day Trivia
As the Liberty Bell rang from Independence Hall, crowds gathered in Philadelphia as the Declaration Independence was read in public for the first time on July 8, 1776.
Only two men signed the original Declaration of Independence on July 4, 1776, they were John Hancock and Charles Thomson who was the Secretary of the Second Continental Congress.   A larger copy was made and this is the one that most of the delegates signed on August 2, 1776.  This second document is the one that is on display in the National Archives in Washington, D.C.
The first signer of the Declaration of Independence was John Hancock; he said he wrote his signature so large because he wanted the King of England to see it without his glasses.   The last signer was Thomas McKean who finally signed the document in January 1977; he later became governor of Pennsylvania.
The oldest signer of the Declaration of Independence was Benjamin Franklin who was 70 years old.  The youngest was Edward Rutledge who was 26 years old; he later became the governor of South Carolina.
In a remarkable coincidence, both John Adams and Thomas Jefferson died on the same day just five hours apart.  Jefferson died first, he was 82 years old and Adams was 90 years old.  The date was July 4, 1826 and it was the 50th anniversary of the Declaration of Independence.
Red, white and blue, the colors of the flag of the United States of American, have always been considered patriotic colors but originally the Fourth of July was celebrated with greenery for decorations.
The first years of our Nation's Independence Day were celebrates with artillery canons from the American Revolution battles that were fired on the Fourth of July but eventually this practice was discontinued and slowly replaced by fireworks.