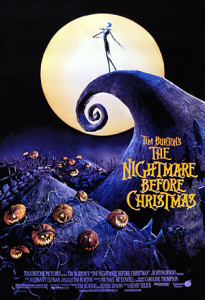 One of our favorite family traditions at Halloween every year is watching "The Nightmare Before Christmas".  I must be honest and say that when I first saw the movie I did not like it but over the years I have come to enjoy this quirky movie by Tim Burton.  When we lived in California, we also went every year to see the Haunted Mansion in Disneyland when it received the annual "Nightmare Before Christmas" overlay with the characters of Jack Skellington, Zero, Sally and Oogie featured throughout the attraction. (Please see the post, Disneyland's Haunted Mansion, for more information on this iconic attraction)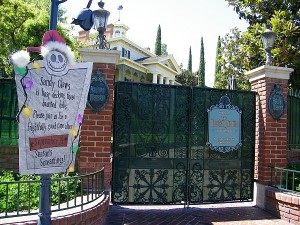 Tim Burton was born in Burbank, CA in 1958 and as a teenager he started making short films using the stop motion animation technique.  After graduating from Burbank High School, Burton studied at the California Institute of the Arts located in Valencia, CA.  Founded and created by Walt Disney in the early 1960s the university, known as CalArts, was created specifically for the visual and performing arts which Disney used as a resource for their future employees.  Interestingly, some of Burton's classmates were John Lasseter and Henry Selick.
Eventually Burton went to work as a Disney animator and in 1982 he had some mild success with an animated six minute stop action short film called "Vincent".  At this same time, Burton wrote a three page poem, "The Nightmare Before Christmas".  Disney had considered developing the idea into a short film or possibly a television special.  In 1984 Burton's next film was a live action short called "Frankwnweenie" but shortly after the film was completed Disney thought Burton's work was too dark and scary for children which was Disney's target audience and he left the company.  Burton went on to direct such Warner Bros. films as "Pee-Wee's Big Adventure" (1985), "Beetlejuice" (1988), "Batman" (1989), and the 20th Century Fox film "Edward Scissorhands" (1990).
During those years, Burton kept returning to the story of "The Nightmare Before Christmas" but Disney still owned the film rights.  Finally in 1990 Burton entered into an agreement to produce a full length feature film but due to the darker theme of the film, Walt Disney Pictures had decided to release the movie under their more mature movie division, Touchstone Pictures.  Burton's old classmate from CalArts, Henry Selick, was the film's director and Danny Elfman, who Burton had worked with since 1984 on his previous films, collaborated on the storyline and co-wrote the songs for the movie.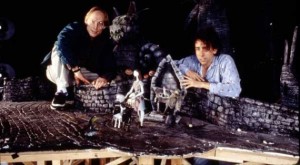 By 1991 Selick had organized a team of animators and began the complicated and long production of the stop action film with a crew of 120 workers using 20 sound stages in San Francisco, CA.  To film the movie they had created 227 puppets for the various characters in the movie.  Just for the character of Jack Skellington there were over four hundred heads to allow for every possible facial expression, emotion and head position.  The movement of Sally's mouth was animated later through a different process utilizing ten different types of faces each with a series of various expressions and synchronized mouth movements.  By this time Burton was involved in a previous commitment to film "Batman Returns" (1992) and preproduction for his next film "Ed Wood" (1994).  According to Selick, because of Burton involvement with the other movies he rarely visited the set of "The Nightmare Before Christmas" during the two years it took to complete the principal filming of the movie.
The movie was released in 1993 and includes a cast of characters with the voices of Chris Sarandon as Jack Skellington (Danny Elfman provides the singing voice of Jack), Catherine O'Hara as Sally, William Hickey as Doctor Kinklestein, Ed Ivory as Santa Claus and Ken Page as Oogie Boogie.  Although the movie received positive reviews for originality it only had limited success due to the darker and quirky style of storytelling.  With the DVD release of the film in 1997 and the wonderful CD soundtrack of songs co-written by Burton and Elfman, the movie has become a popular with the general public and has proven to be a new Halloween classic.
With this increase in the movie's popularity Disney Imagineers decided to take a chance and starting in 2001 the Haunted Mansion at Disneyland receives a seasonal overlay that blends the settings and characters of the original attraction and "The Nightmare Before Christmas".  The Haunted Mansion in New Orleans Square closes for two weeks in September to be converted into "The Haunted Mansion Holiday" attraction.  "The Haunted Mansion Holiday" runs from mid September to early January then the attraction closes to have the overlay removed.
"The Nightmare Before Christmas" synopsis
As the movie starts we are introduced to Halloween Town which is filled with ghosts, vampires, werewolves, witches and other monsters.  Jack Skellington, also known as the Pumpkin King, is the center of the Halloween celebration but he is growing tired of the same routine every year.  While wandering in the forest he accidentally finds a portal to Christmas Town and Jack is fascinated with this new holiday.  He loves the feeling of Christmas and the idea of Santa Claus with all the gift giving traditions.  Jack decides to bring the ideas of Christmas back to Halloween Town.
Back in Halloween Town there is a rag doll women named Sally that was created by a mad scientist.  Sally has begun to fall in love with Jack, but she thinks his idea of Christmas will be disastrous. Jack enlists the help of a trio of children named Lock, Shock and Barrel to kidnap the real Santa and bring him back to Halloween Town.  Instead the trio brings Santa to Oogie Boogie who is a bogeyman with a fondness for gambling and Oogie decides to play a game with Santa's life and he is in terrible danger.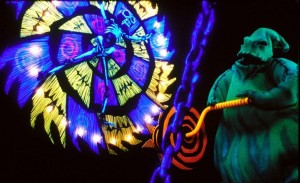 When Christmas Eve arrives and Jack finds out Santa is missing he decides to return to Christmas Town and Sally tries to stop Jack.  But Jack, now dressed as Sandy Claws, leaves on a sleigh made from a coffin pulled by a skeletal reindeer which is actually his ghost dog named Zero.  Sandy Claws starts to deliver presents which are not lovely gifts but scary things like shrunken heads and Christmas tree eating snakes that terrify the children.  Christmas Town is on alert and the military hunts Sandy Claws down while he is flying in his make-shift sleigh.  After the crash, news gets back to Halloween Town that Jack (Sandy Claws) is presumed dead.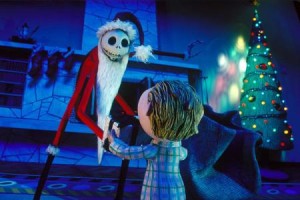 Somehow Jack survives the crash and lands the cemetery.  He is sad that his Christmas plan has failed but his spirit is renewed when he begins to make new and exciting plans for next Halloween.  Finding out that the missing Santa is being held by Oogie Boogie and that when Sally tries to rescue Santa but she also gets captured, Jack tries to save them both.  Unfortunately, Oogie attacks Jack with metal playing card that keep popping up but Oogie is finally defeated and everybody is saved.
Afterwards, Santa reprimands Jack for almost ruining Christmas.  As Santa leaves Halloween Town he makes the snow fall to show that there are no hard feelings towards Jack.  The town's people are at first confused by the snow (they have never seen it before) but then they begin to play in the snow and are very happy.  Then, Jack notices that Sally is heading towards the graveyard and he follows her and finally reveals that he loves her too.  The last scene ends with the couple kissing on the top of a large hill in the cemetery with a full moon behind them.