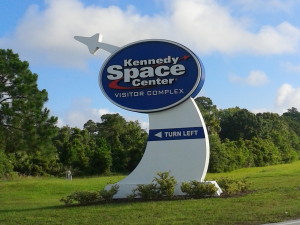 Hello, it is Jeff again.  Barbara normally writes the travel posts for this blog, but she knows how much I love everything about NASA and the Space program.  You may have figured it out, I'm a space nut!  My dream when I was 10 years old was to be an astronaut and I still love everything about space!  When we went to the Kennedy Space Center in Florida in 2010 we arrived when it opened and hours later we were still there when it closed for the day (I could have stayed even longer!) and my family had to drag me out!!  There is so much to see at the Kennedy Space center that when (not if, when!) we go back I will suggest to my family that we allow at least two days to allow for more exploring of the facility and exhibits!
Before getting into the details of the Kennedy Space Center and Cape Canaveral today, let's take a brief look at the history of the site.  The Joint Long Range Proving Ground was established in 1949 after initial testing on Topsail Island in North Carolina had to be halted due to bad weather conditions and increased water traffic.  The first launch at the Cape in Florida was on July 24th, 1950 when the Air Force launched a V-2 rocket.  This launch and many others can be seen here in this government information film "The Cape: 1963".  There were many major American space exploration "firsts" that happened at the Cape and are mentioned on Wikipedia, including: the first U.S. Earth satellite (1958), first U.S. astronaut (1961), first U.S. astronaut in orbit (1962), first two-man U.S. spacecraft (1965), first U.S. unmanned lunar landing (1966), and first three-man U.S. spacecraft (1968). It was also the launch site for the first spacecraft to ever fly past the other planets in the Solar System (1962–1977), the first spacecraft to orbit Mars(1971) and roam its surface (1996), the first American spacecraft to orbit and land on Venus(1978), the first spacecraft to orbit Saturn (2004), and to orbit Mercury (2011).
You may be wondering … what about the some of the most famous launches, such as the first flight to the Moon and the Space Shuttle?  These events all happened at the Kennedy Space Center.  After President Kennedy announced the ambitious plan to go to the moon, NASA realized that their facilities at Cape Canaveral Air Force Base were inadequate.   Initially they wanted to take over the Air Force base, but they needed more space and NASA began buying 200 square miles of land north of the base on Merritt Island.  At this site they constructed the launch platforms and support buildings that were used for the Mercury, Gemini and Apollo missions and until most recently the Space Shuttle program.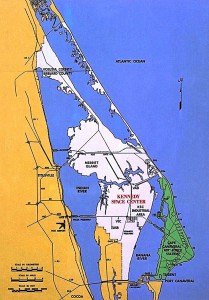 One final question that needs to be addressed is the name.  Is it Cape Canaveral, Cape Canaveral Air Force Base, Kennedy Space Center, Patrick Air Force Base or Station No. 1 of the Atlantic Missile Command? The answer is that all of these names are correct!  The confusion lies in Executive Order 11129 issued by President Johnson three days after President Kennedy was assassinated in 1963.  Not only did he name the Air Force base and the NASA facilities the Kennedy Space Center, but he also had the land renamed as well.  This didn't go over too well with the citizens of the area who had been calling it Cape Canaveral for a very long time.  To make a long story short, in 1973 the land reverted back to the name of Cape Canaveral and the NASA facilities on Merritt Island would retain the name of the Kennedy Space Center.   The Cape Canaveral Air Force Station (CCAFS) is an installation of the United States Air Force Space Command 45th Space Wing, which is headquartered at nearby Patrick Air Force Base."  For us space enthusiasts, the place to visit on a trip to Florida is the Kennedy Space Center, particularly the Visitor Complex.
As I said before, there is A LOT to do at the Kennedy Space Center, but it all starts by purchasing an admission ticket.  Admissions for the center can be purchased online at www.kennedyspacecenter.com/tickets.  The types of tickets available are single day as well as multi-day admission tickets, but if you plan on visiting the KSC on additional visits within a one year period I would recommend an annual pass. Travel Note:  The KSC website is little harder to navigate through but I would suggest calling them directly to make your arrangements via phone, 866-737-5235. Many of the KSC tours/experiences admit limited numbers of guests, so make sure to make your reservations early especially during the busy summer months!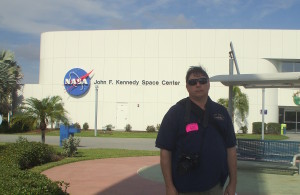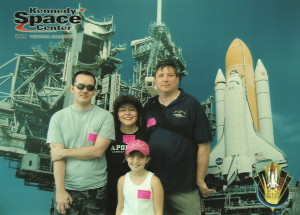 I would recommend starting your day at the Kennedy Space Center with one of the bus tours, which is currently included in the admission ticket, more extensive "Up Close" tours are available for an additional fee.  Since the KSC is undergoing changes and adjustments since the ending of the Space Shuttle program, the tours might change and it is advised to see their website for the most current information, www.kennedyspacecenter.com/tours.  When we visited for the first time in 2010, we went on a tour called "Today and Tomorrow" which is similar to the "Then and Now" tour that is currently available.  The good thing about taking one of the KSC bus tours is that at the end of the tour they stop at the Apollo/Saturn V Center (which is included with an admission ticket) where visitors can see a real Saturn 5, all 363 feet of it!!  Can you tell I am still in awe over our visit?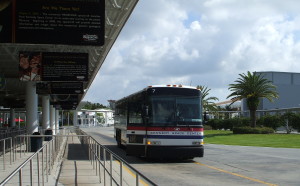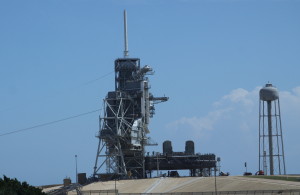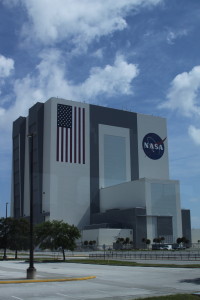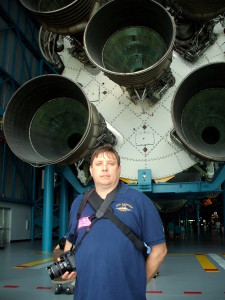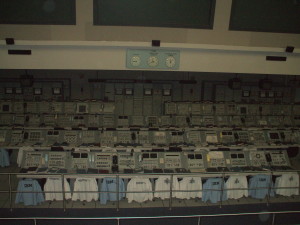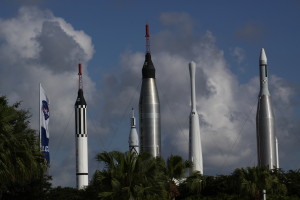 There are a couple of other experiences at the Kennedy Space Center that I highly recommend.  First consider the "Lunch with an Astronaut" which allows visitors to share a meal and meet someone who has actually been in space.  We haven't done that yet, but visitors get to hear a lecture presented by an astronaut and afterwards they will spend time with the visitors answering questions.  Second, go see the new Atlantis exhibit!!  (Unfourtunately, the exhibit was opening after our most recent visit to KSC which is my perfect excuse to go back!) Also available is "The Shuttle Launch" experience "ride" which is fabulous but be sure to make time to see all the other exhibits and don't forget to visit the rocket garden.  If you have a full day to spend at KSC, and if you plan in advance, you can make reservations for the Astronaut Training Experience (ATX).  My daughter and I did this during our most recent KSC visit in 2013, it was so much fun and we got to meet an astronaut, play in the centrifuges and other space training equipment and finally participate in a launch simulation. The ATX is a little expensive, but well worth it!!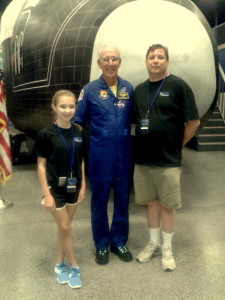 So, to finish this post, I'll leave you with some space facts, trivia and additional links to enjoy:
Atlantis traveled 125,935,769 miles in space over the 307 days it was in orbit.
President Bill Clinton was the only president to watch a shuttle launch live on site.  He and his wife watched John Glenn's return to Space on STS-95 on Oct 29, 1998 from the Kennedy Space Center.
Wally A. Schirra was the only man to fly in all three of NASA's 'Moon Shot' programs (Mercury, Gemini and Apollo).  Alan Shepard flew in Mercury and Apollo, but not in Gemini. Gus Grissom was involved in all three projects, flying in Mercury and Gemini, but he was killed during a pre-flight simulation in his Apollo 1 capsule, so he never actually flew in the Apollo program.
The Sun is about 93 million miles, or 150 million kilometers, away from the Earth. The speed of light is 186,000 miles per second, therefore it takes a little over 8 minutes for the Sun's light to reach the Earth.
The Mercury capsules named by the astronauts.  Each astronaut named his capsule and added the numeral 7 to denote the teamwork of the original astronauts.
Seats on Virgin Galactic cost $250,000 each.  The full fee is due upon booking.  Here is the booking link:  http://www.virgingalactic.com/booking/. (Maybe if Virgin Galactic's prices will come down enough before I'm too old to afford it so I can take a ride!!).
The Astronomy Picture of the Day has been posting annotated pictures based on space themes since June of 1995.  I have been reading them almost daily since then.
You can view images of and help classify galaxies at http://www.galaxyzoo.org/.
You can help look for extraterrestrial life at http://setiathome.ssl.berkeley.edu/
The Kennedy Space Center is run by Delaware North Companies Parks and Resorts; the same company that manages the attractions at Yellowstone, Yosemite and the Grand Canyon.