Many of the Christmas traditions that we celebrate here in the United States came started centuries ago in England.  Here are some of my favorite traditions and wonderful ways that I use these ideas to decorate our home during the holiday season:
Father Christmas/Santa Claus –
Across the world Santa Claus is known by many different names and in England he goes by the name of Father Christmas, in Ireland it is Daidi na Nollag, in Italy it is Babbo Natale, in Spain it is Papa Noel and in France it is Pere Noel.
In 16th century England, the feast day of Saint Nicholas was no longer celebrated due to King Henry VIII's break with the Catholic Church centered in Rome.  Centuries later, the Father Christmas character, normally associated with the feast of Saint Nicholas, was revived during the reign of Queen Victoria and generally pictured as a large man wearing a crimson robe lined with fur.
Today in America, the character known by Kris Kringle or more commonly by the name Santa Claus became famous in the 1823 poem, "A Visit From St. Nicholas" and later by an 1897 editorial in the New York Sun newspaper that answered the important question of his existence with the response, "Yes, Virginia, there is a Santa Claus".  The popular character which has become a major part of Christmas in the United is usually depicted as a large man with a white beard wearing a red coat trimmed with a white collar and cuffs matching red trousers also trimmed in white and a black leather belt and black leather boots.  The story of Santa Claus was written in the famous 1934 song, "Santa Claus is Coming to Town" is said to have a list of children throughout the world, the naughty ones get a piece of coal in their stockings and the nice ones receive wonderful gifts of toys and candy on Christmas Eve.  Santa lives far away in the North Pole and the elves help to make the toys and the presents are loaded onto Santa's sleigh which is pulled by eight reindeer that fly.
During the Christmas season, I use several Santa Claus decorations throughout our home.  This year the fireplace mantel in our living room is decorated with an artificial pine garland, red berry sprays and ceramic ivory and hung above is a whimsical sign that I made a few years ago that reads, "Santa Claus is Coming to Town" trimmed with bronze jingle bells.  On either side of the garland I have placed a Santa Claus figurine and two reindeers to complete the display.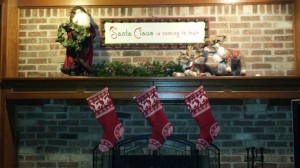 Another Santa Claus decoration that is a family favorite is my Department 56 North Pole Village which this year is displayed on a table near the window in the library room of our home.  I love setting up the North Pole display and in past years I have usually set it up on the bookshelf on the left side of the fireplace in the living room or displayed on the fireplace mantel.  Every year I like to change our Christmas decorations, sometimes I add accessories or change the arrangement display … I'm already wondering where I will put the Department 56 North Pole display next year!  (For more information about Setting up a Department 56 Village, please click on the links)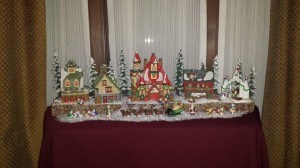 Christmas Tree –
The tradition of the Christmas tree was brought to England by Prince Albert and became popular during the reign of Queen Victoria.  Christmas trees during that time where decorated very differently from the ones seen in the United States today.  In Victorian England, Christmas tree were cut from the nearby woods and brought indoors to be decorated with natural items such as nuts, berries, apples or possibly oranges and illuminated with candles clipped to the branches of the tree.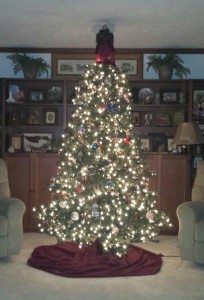 Things have changed considerably over the years, lite candles on Christmas trees have been proven to be a fire hazard and it was determined that cutting down trees was not good for the environment.  Today, artificial Christmas trees have become popular and there are a variety of light styles and colors to string on the trees, our Christmas tree was bought pre-lite so my husband doesn't have to spend hours un-tangling the lights to put on the tree!  The decorations for the Christmas tree have also changed throughout the years, my mother used glass ornaments and shiny silver tinsel and I have been purchasing Hallmark ornaments for almost forty years now for our Christmas tree.  (For more information about my Hallmark ornament collection, please click on the link)
Themed Christmas trees have also become popular and the variety of themes and styles are endless.  When decorating for the Christmas season, I use several Christmas tree in various rooms of our home.  My husband has his "Star Trek" themed tree, my son has his "Star Wars" themed tree and my daughter alternated between her "Disney Princesses" and "Barbie" themed tree.  (For more information about these themed Christmas Trees, please click on the link)
Christmas Cards –
In England, children would often write letters to Father Christmas with their wishes for toys or other items.  Traditionally, these letters would be "delivered" to him by putting them in the fireplace so that the ashes from the burnt letter would fly up the chimney because (as everyone knows, right?) Father Christmas can read the messages in the smoke!!  Since the Victorian times, sending Christmas card in England has become very important custom and a wonderful way to send "Happy Christmas" wishes to family and friends.  English families would make their own Christmas cards to send and the ones that were received were these were often used as decorations within the home during the holiday season and displayed on fireplace mantles or shelves located near the Christmas tree.
Children in the United States have been known to mail their Christmas requests to Santa Claus in the North Pole.  Of course, there are other ways to get a message to Santa, sometimes children wait to give Santa their gift wish lists when they go to have their picture taken with him at the mall or sometimes they will write a special letter to him on Christmas Eve with their list and they will set out with a plate a cookies and glass of milk for him and a couple of carrots for the reindeer.  (Magically, I have been able to save these letters to Santa that my children have written over the years!)
Next year, I plan to use several of the Christmas cards that we have received from friends and family from years past, I have also saved one card that we have sent out each year, and these cards are so beautiful that I hope to create some wonderful craft projects with them.  (Be sure to check back next year to see how I use these Christmas cards!!)       
Christmas stockings –
In England, the custom of hanging stockings above the fireplace started centuries ago mainly out of necessity because this was generally the way for the children to dry them overnight.  Of course, Father Christmas used this as an opportunity to leave small presents of fruit, nuts, candy or other small gifts for the good little boys and girls.  Traditionally, on Christmas Eve the children would leave a snack of cookies or small meat pies for Father Christmas near the fireplace.
In the United States, the custom of hanging Christmas stockings is a wonderful tradition to celebrate during the holiday season.  Christmas stockings can be bought in a variety of stores and are available in styles ranging from inexpensive simple ones to expensive and elaborate ones.  For those that wish to make their own Christmas stockings they are several sewing patterns available in different styles that could be used to create special ones for family or friends in fabrics ranging from inexpensive felt and denim material to expensive silk or satin material.  There are also embroidery and needlepoint kits that can be purchased at craft stores that can be used to create custom Christmas stockings for family or friends.  The gift of a custom Christmas stocking makes a wonderful gift for a child's first Christmas, my son received one these and I am planning on having it framed.
Christmas dinner –
In England, on Christmas day a special meal is served usually in the afternoon.  Traditionally, the meal consists of a roasted goose, duck or pheasant.  Side dishes could possibly include stuffing, gravy, cranberry sauce or currant jelly, potatoes, brussels sprouts or parsnips and for dessert of Christmas pudding or English trifle.  This meal is very similar to one served to the British Royal Family when they gather together at Sandringham in Norfolk to celebrate during the holiday season.  (For more information regarding the traditions associated with the annual British Royal Family Christmas at Sandringham, please clink on the links)
The Christmas dinner table is usually set with the home's finest dishes, flatware, glasses and table linens.  Also placed at each of the place settings is a very special item known as a Christmas cracker.  A Christmas cracker is a paper tube filled with three items usually a small treats such as a spinning top or simple puzzle, a special joke or humorous limerick and finally a paper crown.  The filled paper tube is then covered with foil that is twisted at both ends to seal.  Traditionally, the crackers are usually opened at the Christmas dinner; each cracker is held between two people and pulled.  As the Christmas cracker is opened there is a small device inside which makes a loud pop sound.
The custom of the English Christmas Cracker is a wonderful idea to add fun and excitement to a Christmas dinner.
For more ideas on decorating inspired by an English Christmas, please check out the following links: Victorian Table Decoration and Christmas Mistletoe Ball.