As you know from my blog's other Travel posts, our family loves to travel and visit exciting place and have wonderful adventures.  Some of our favorite zoos that we have visited are the San Diego Zoo and the Santa Barbara Zoo.  The San Diego Zoo is very large zoo and would generally be an all-day event and we would stay overnight in San Diego since we lived in Los Angeles.  Larger zoos tend to have more animals and several hundred different types of species.  Smaller zoos, like the Santa Barbara Zoo, have fewer animals and a limited numbers of species.  When our daughter was a toddler we preferred the smaller zoos because we could see everything in a few hours which was the perfect amount of time for a young child with a short attention span and the need for afternoon naps!  We decided to purchase an annual zoo membership at the Santa Barbara Zoo and went every month, this turned out to be wonderful idea because our daughter became very familiar with the animals there and was able to watch the baby animals as they grew over the years.
Another advantage to having a zoo membership is the access to activities and special events.  Either way, if you choose a large zoo or a smaller one, consider a behind the scenes tour.  We highly recommend these types of tours because they go into areas that the general public does not normally get to see, like the zoo kitchen where the zoo staff prepares the animals food and sometimes behind the scenes into areas where you can see the animals off exhibit or in the animal hospital.
A trip to the local zoo can be great family fun and it can also be a wonderful learning experience for both children and adults.  Listed below are some tips and suggestions for planning a visit to the zoo.
Before the zoo visit
Plan ahead and be prepared by checking out the zoo's website for hours and  admission prices, also to familiarize yourself with the park layout and a list of the zoo's current animals.  Most zoo websites will have some of the zoo animal details, such as: the animal's names, new births, etc.
If you or your children have an interest in a particular species of animal, do some research online for more information.  Check out the local bookstore or library for animal books to read before the visit to the zoo.
Generally the best time to visit a zoo is when the zoo opens in the morning.  Most animals that live outdoors will have just come out of their night area, investigating their day area and sometimes the zoo keepers will add enrichment activities to stimulate the animals' physical and mental behaviors.
Check the weather report before you leave home for current conditions.  Dress in layers you can take off or put on since you may be moving indoors into air conditioned buildings or outside into the heat and sun.  Take along a jacket and wear comfortable shoes because chances are you will be doing a lot of walking.
Most zoos offer some type of meal service, sometimes there are full service restaurants, ice cream and cotton candy stands.  Consider bringing healthy snacks and water or a better idea is to check ahead to see if there are picnic areas and take the time to pack a delicious lunch. Bring reusable water containers to stay hydrated during the hot summer days.
Consider bringing a stroller because even the most energetic toddler can easily become exhausted walking around the zoo.  Strollers are also a great way to carry extra jackets, snacks and water bottles or even picnic lunches.  Be sure to tuck in a small first aid kit because you never know when there will be cuts or scraps as the children run around the zoo.
During the zoo visit
When visiting the zoo, be sure to observe the zoo's safety rules.  Check the zoo's map/brochure for the rules and observe posted signs.  Don't forget the animals in the zoo are wild and are kept in the enclosures for the visitors safety as well as their own.  Be sure to teach your children not to feed the zoo animals and explain they are on special diets and other food could make them sick.
Be sure to supervise small children.  Zoos can become very crowded at times and children can easily be separated from their parents if they run ahead.  When we visited zoos when our daughter was small we purchased a small metal tag that had her name and our cell phone numbers in case she got lost.
Consider a small backpack for holding items like a small first aid kit, snacks, a reusable water bottle, etc.  Be aware of the weight of the backpack when it is loaded and remember it will be carried around all day.  One thing that I carried in my backpack was a small light weight book about animals that I found in my local bookstore and we would read it throughout the day while looking at the different exhibits or while eating lunch.
Some zoos have a petting area where animals can be seen up close.  This can be exciting for children as well as adults.  But with this direct contact of the animals it is possible to be exposed to harmful germs.  Consider tucking a small anti-bacterial hand sanitizer into your first aid kit or backpack.
When visiting the zoo, take lots of pictures of the animals.  We took of our photos from the Santa Barbara Zoo and put them into a scrapbook with printed information from the zoo's website.  Some zoo websites have information and statistics on their individual animals or other online sources can be used for additional information of a specific species.  It takes a little time to assemble one of these scrapbooks but the cost of supplies can be relatively inexpensive.  My daughter enjoyed looking at her "zoo scrapbook" and even now that she is older and we have moved away from the area she still looks at it from time to time.
The following are the two of our family's favorite zoos –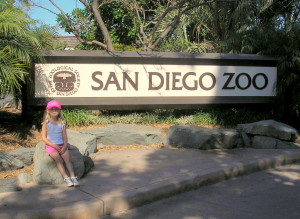 San Diego Zoo
We highly recommended the world famous San Diego Zoo if you are ever in the southern California area, it is the located in Balboa Park in San Diego.  This zoo is one of the best that we have ever visited and it is huge!  The Zoo, located near downtown San Diego, has 100 acres with over 3,700 animals of more than 650 species.  The San Diego Zoo was started with the exotic animals that were abandoned after the 1915 Panama-California Exposition.  In 1916, the Zoological Society of San Diego was founded by Dr. Harry Wegeforth and when a permanent home was established in Balboa Park in 1921, by mutual agreement it was decided that the city of San Diego would own all the animals and the zoo would manage them.
The zoo was one of the first in the nation to create "cageless" exhibits in which the animals were contained within their areas by deep moats; the lion exhibit was the first.  Exhibits are often designed around a particular animal habitat which features many different animals found normally living within the same locations in the wild.  The zoo is very large and is definitely an all day visit.  If visitors are not up to walking, have very small children or have physical restrictions; the zoo offers a guided tour bus that covers about 75% of the park.  There is also a Skyfari ride that provides aerial views over the zoo with some amazing sights of Balboa Park and beyond.
The Australian Outback area of the zoo has the largest number of koalas outside of Austrailia.  The Panda Trek area is one of only four zoos in the U.S. with giant pandas and has a very successful panda reproduction program.   The Ituri Forest exhibit has many animal species from this region of Africa but my favorite is the hippo exhibit.  (While visiting the zoo, if possible time a visit to this area when the zoo staff feeds whole watermelons to the hippos)  Polar Bear Plunge is home not only to the polar bears but to over 30 species of animals from the arctic region.  These are just a few of the areas that are found in the world famous San Diego Zoo.
BOOK SUGGESTION:  "It Began With A Roar" by Harry M. Wegeforth and Neil Morgan.
Santa Barbara Zoo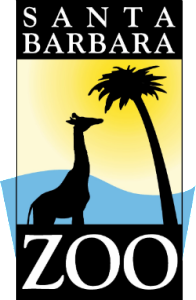 This smaller zoo is located on the coast of California in the wonderful seaside town of Santa Barbara.  Formerly known as Child's Estate, this property was deeded to the Santa Barbara Foundation upon the death of Lillian Childs, a long-time resident of the community.  In 1963, the 30 acre Santa Barbara Zoological Gardens was opened to the public and is considered one of the nation's best small zoos.  There are over 600 animals on exhibit and visitors are first greeted near the entrance by several capybaras and a couple of river otters.  The African Veldt area has several giraffes and a nearby smaller exhibit has meerkats. The Forest's Edge area of the zoo currently houses two gorillas and the Elephant Walk area has both a large land area and small pool for the zoo's two Asian elephants.  The Cats of Africa opened in 2003 and is built into a small hillside and houses several lions. Eeeww! is a building which houses all kinds of creepy crawly bugs, lizards, spiders and snakes.  California Trails is the newest exhibit to the zoo and houses several California condors and Channel Island foxes.
One of the zoo's most popular animals was Gemina, the "crooked-necked giraffe".  (born: July 16, 1986  died: January 9, 2008)  She was a female Baringo giraffe born with a straight neck at the San Diego Wild Animal Park and acquired by the Santa Barbara Zoo shortly after her birth.  At the age of three she developed a bend in her neck and despite her deformity she was treated as a normal member of the herd of giraffes and appeared to be in no discomfort.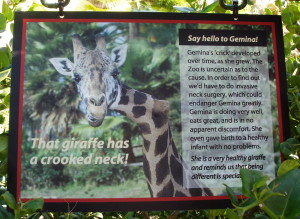 Here is a craft suggestion after a day at the zoo check out the Craft Post, Zoo Animal handprints.