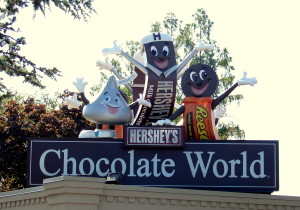 During a road trip to Gettysburg in 2008 we stopped in Hershey, PA.  Hershey is the home of the Hershey Company and is sometimes referred to as "The Sweet Place on Earth".  Hershey's Chocolate World is open year-round and nearly 3 million visitors take the Chocolate tour.  This attraction was opened in 1973 when the original Hershey chocolate plant tour reached capacity and was no longer able to handle the large number of annual visitors.
At our visit to Hershey's Chocolate World we took a 10 minute ride, the Chocolate Tour, which quickly takes visitors from the harvesting of the bitter cocoa beans to the making of a delicious Hershey's Chocolate Bar.  In 2006, animatronic singing cows were added throughout the ride and our daughter enjoyed the cows so much that we went on this ride twice!  At the end of the tour, visitors are given a free sample of a Hershey's product. (at the time we visited their newest product was the Bliss candy)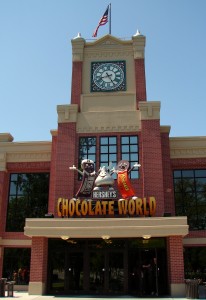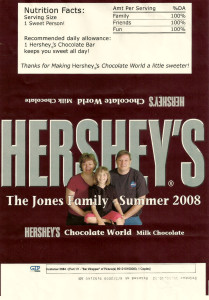 Hershey's Chocolate World has various shops selling Hershey chocolates and souvenirs.  The main candy store has the world's largest selection of Hershey brand products.  If you are hungry, there are several different food choices in the Hershey's Courtyard Food Court and Hershey's Ice Cream Shop.  While we were at Chocolate World, we had our photo taken and the image was printed onto Hershey's chocolate bar wrappers to make a great souvenir!  We also purchased a cute Hershey chocolate bear for our daughter to add to her stuffed bear collection.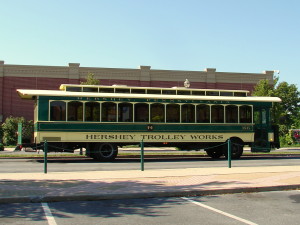 Before we left Hershey we took the Hershey Trolley.  Since 1988 this green trolley takes visitors on a 60 minute round-trip tour of the town of Hershey.  The singing conductors tell the history of Milton Hershey's chocolate company and point out the interesting historical sites.
Some sites along the tour included:
The Town of Hershey –  Hershey wanted to create a complete town where his employees had access to quality homes, decent transportation, schools for their children, recreation at parks and community centers, a variety of churches for religious services and even their own bank.  Hershey named the two main streets in town Chocolate Avenue and Coca Avenue.  In 1963, 107 streetlights in the shape of Hershey Chocolate Kisses were added to Chocolate Avenue. (55 look like the traditional foil wrapped candies and 52 look like the unwrapped chocolate candies)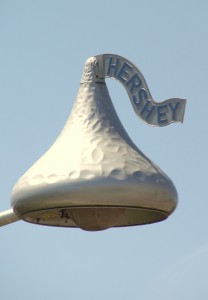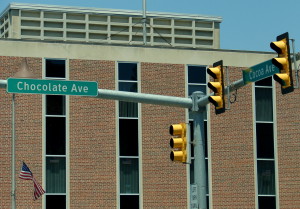 High Point – The home of Milton Hershey was built in 1908 overlooking the original chocolate factory.  The residence features 22 rooms, as Hershey was a humble man, their home is less ornate than the homes built by the other Hershey executives.  Today the home is used as the offices for the Hershey Trust Company.
The Hershey Gardens – The gardens opened in 1937 and are over 23 acres filled with 7,000 roses bushes in a varieties of 275 different roses.  (we wished we had the time to walk the beautiful grounds!)
The original Hershey Chocolate Factory – The Hershey Company has the largest chocolate factory in the world.  The original factory started construction in 1903 and was completed in 1905, it has grown from the original six acres to 2.2 million square feet today.  The red barberry bushes outside the factory spell out "Hershey Cocoa".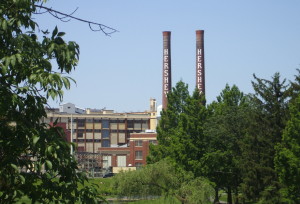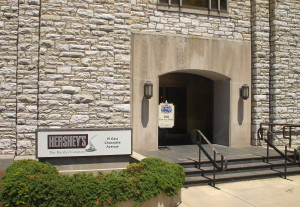 The Milton Hershey School – Milton Hershey and his wife, Kitty, had no children of their own.  The home and school for orphan children were founded in 1909 and housing, meals, clothing and medical/dental care are provided free of charge to students.
The Hotel Hershey and Spa – Built in 1930 to accommodate the growing number of tourists to the area, the Hotel Hershey offers "elegance without pretense" in their 276 rooms.  Located within the facility is their luxurious spa, known as the "Chocolate Spa" because guests can experience exotic and innovative treatments, like the Whipped Coca Bath, Chocolate Bean Polish and the Chocolate Fondue Wrap!
A Brief History of Milton Hershey and the Hershey Company
Milton Hershey (September 13, 1857 – October 13, 1945) founded the Hershey Chocolate Company in 1894 and it is the world's largest chocolate manufacturer.  He is also known for his philanthropic work and founded the Milton Hershey School which is a full funded home and school for orphan children.
Hershey was raised in rural central Pennsylvania, had a very limited 4th grade education and nearly went bankrupt a couple of times.  As a teenage boy in Lancaster, PA he served a four year apprenticeship with a local candy maker.  In 1876, he made an attempt to start his own candy business in Philadelphia and despite six years of hard work it failed.  Hershey then moved to Denver, CO and found work with a confectioner who taught him how to make caramels using fresh milk.  He tried starting another candy business in New York City but this new venture also failed. Returning to Lancaster in 1886, Hershey established the Lancaster Caramel Company and finally he had success business.
While attending the 1893 World's Columbian Exposition in Chicago, Hershey became fascinated with the process of making chocolate.  He purchased the machinery used by a German company at the exposition and shipped everything to Lancaster to make chocolate coatings for his Lancaster Caramels.  For the next few years he experimented with various recipes for making quality milk chocolate.  In the process, Hershey realized the growing consumer demand for chocolate and developed a system of mass production and distribution to market his Hershey Chocolate bar.  He sold the Lancaster Caramel Company in 1900 for an enormous sum at the time of $1 million.
With proceeds from the sale, Hershey was finally ready to establish his most successful business venture.  In 1903, he found a suitable location for his Chocolate factory in nearby Derry Township and started construction.  This area was surrounded by local dairy farms to supply fresh milk and several port cities were convenient to provide shipments of cocoa beans and sugar needed for his chocolate production.
In 1898, Milton Hershey had married Catherine Sweeney, known as "Kitty".  The couple had a very happy marriage but sadly they were unable to have any children.  The couple decided that if they could not have children of their own, they would become the benefactors to those orphan children that needed help. In 1909, Hershey signed the Deed of Trust establishing the Hershey Industrial School, later renamed the Milton Hershey School.  After a lengthy and debilitating muscular disease, Kitty died from pneumonia in 1915.  In 1918, honor of his beloved Kitty, Hershey transferred the majority of his considerable wealth to the Hershey Trust.  A heartbroken Hershey never remarried and spent the next thirty years continuing to build his company and the Milton Hershey School.  He died in 1945 at the age of 88 and is buried at the Hershey Cemetery alongside his wife.
Hershey Trivia and Interesting Facts
The first Hershey's Chocolate Bar was created in 1900, followed by Hershey's Kisses in 1907 and the Hershey's Chocolate bar with almonds in 1908.  Other products followed including the Mr. Goodbar (chocolate and peanuts) in 1935, Hershey's Syrup in 1926 and the Krackel (chocolate and crisped rice) in 1938.
In 1912, the Hersheys were scheduled to return to Pennsylvania after an extended European vacation on the ill-fated RMS Titanic.  They canceled their reservations when Kitty became ill and booked passage later on another ocean liner.  The Hershey Museum displays a copy of the check Hershey wrote to the White Star Line for a deposit for a first class stateroom on the Titanic.
The Hershey's Kisses got its name when the machine that produced them made a "kissing" sound when the chocolate mixture was dropped onto the conveyor belt.  The Hershey's Kisses were originally wrapped by hand with aluminum foil and a paper strip was included to guarantee a genuine Hershey product until 1956 when the process was automated.  Over 24 million Hershey's Kisses are produced at the Hershey Chocolate plant in a single day!
Harry Reese, a dairyman, began working at the Hershey factory in 1921.  By 1925 he had developed an assortment of candies and with Milton Hershey's permission he started selling them in Lancaster, PA.  Hershey and Reese continued to have a good relationship and in an agreement with Hershey, stipulating that he was required to label his candies as "made in Chocolate Town", Reese left and built his own company and factory in 1926.  With the sugar rationing during World War II, Reese limited his candy line to only the Reese's Peanut Butter Cups.  After Reese died in 1956, his company was sold to the Hershey Chocolate Corporation in 1963 for over $23 million.