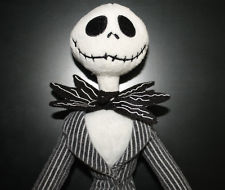 This quirky Halloween wreath is inspired by Tim Burton's 1993 movie, "The Nightmare Before Christmas".  Jack Skellington, the main character in the movie, is the Pumpkin King who lives in the fantasy world of Halloween Town.  The town is filled with ghosts, vampires, werewolves, witches and other monsters who only celebrate the one holiday of Halloween.  Jack has a very unusual appearance; he is a skeleton who wears a black pin-striped suit and a bow tie that resembles a bat.  For more information about the making of the movie and a brief synopsis of the film, please check out yesterday's post, The Nightmare Before Christmas movie.
I have been planning on making a Nightmare Before Christmas wreath for several years and this year I finally came up with a design that I liked.  Below is a list of supplies and instructions to make this unique Halloween wreath.
Nightmare Before Christmas wreath – supplies
1 black wreath, (a pine wreath spray painted black would work if you can't find one)
5 round and flat bisque ornaments
Black Sharpie
1 small Santa hat
Several black berry sprays (I found these in the Halloween section of local craft store)
3" wide black and white striped ribbon
Hot glue gun and glue sticks
wire, cut into 5 4-inch lengths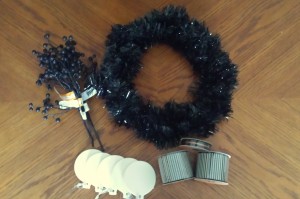 Nightmare Before Christmas wreath – instructions
Using the 5 round bisque ornaments, draw 5

different

faces of Jack Skellington with a pencil.  When you are satisfied with the faces, trace over the designs using a black Sharpie, be sure to fill in the eyes completely.

  

Choose one of the Jack faces and using hot glue attach a small Santa Hat.  This Jack will be the "Sandy Claws" for the Nightmare Before Christmas wreath.

Position "Sandy Claws" in the center of the lower section of the black wreath, position the remaining 4 Jack faces around the wreath.  Individually attach each Jack face with wire to the wreath.

Hot glue black berry sprays to the wreath; evenly space the berries around the wreath.
Using the black and white striped ribbon make a bow and attach it to the wreath just below the "Sandy Claws".