When decorating the home for the holidays consider using Christmas ornaments in unusual ways.  Christmas ornaments are not just for the Christmas tree, there are so many different ways to incorporate them into holiday decorations.  Listed below are several suggestions –
(Please check out this month's Craft post, Christmas Ornament Displays, for additional ideas on how to display Christmas ornaments with supply lists and instructions to create one of a kind Christmas decorations for your home)
Chandelier Decorations
Several years ago I was trying to think of a creative idea to decorate the chandelier in our dining room.  It was a beautiful bronze multiple light fixture with lovely curved arms.  Inspired by seeing other chandeliers with hanging crystals, I thought for the holiday season I would hang small ornaments to add a festive look.  I found some small glass pinecones and acorns at a local retail store and I thought they would be perfect. I hung them from the chandelier's arms with small ornament hooks.  Another way to hang them would be to use ribbons or silk cord.  So, during the holiday season look for smaller ornaments that fit your holiday decorating theme – maybe candy or gingerbread ornaments, small porcelain or glass snowflakes, small ball ornaments in red and green or silver and gold.  The retail and craft stores have a wide selection of ornaments – shop the sales to keep the cost down – be creative with style and color!!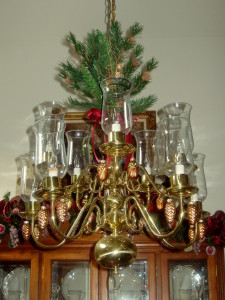 Window Decorations
I had purchased several beautiful ivory porcelain ornaments for an unbelievable price at an "After Christmas" sale one year but I didn't know exactly how I was going to use them.  I had them in my Christmas storage box for a couple of years, just waiting for the perfect idea.  Finally, I was trying to find a way to decorate our windows and I thought the ornaments would add just the right festive touch.  With the curtain pulled slightly back and creating a beautiful frame for the windows, I hung the ornaments from the curtain rods at various lengths with thin ribbon in a matching ivory color.  It was the perfect holiday decoration for the windows!
Ornament Shadowbox
Years ago my Mother gave me several old ornaments from our family Christmas tree.  I never knew what to do with these ornaments because they were very old, made of vintage glass and I didn't want them to break.  Since my Mother passed away this year, I decided I wanted to do something very special with them.  An ornament shadow box seemed like the perfect way to showcase and keep them protected.  If you have a family heirloom ornament or an ornament too fragile or valuable to hang on the Christmas tree, or a unique hand-painted, one of a kind ornament – consider displaying it in a shadow box.
Some ornaments are so beautiful or have such special meaning – why only display them for such a short time at Christmas when you could enjoy them throughout the entire year!  Sentimental ornaments would also be wonderful in a shadow box.  Consider these ways to display them year-round.  – a baby's first Christmas ornament could be hung in the nursery – a baby blanket could be used as the background and cut to fit the size of the frame.
A special shadow box ornament would also make a wonderful gift to celebrate life's special occasions, like a first Christmas ornament for the newlyweds, or to celebrate a new home, or a special milestone anniversary.  There is usually such a nice selection of ornaments available for the holidays, so when you are out doing your Christmas shopping look for unique one of a kind ornaments to give as a special gift.
Tabletop ornament hanger
Another alternative to showcase a special ornament is with a tabletop ornament hanger.  These are usually sold during the holiday season and feature a long curved hook to hand the ornament from and come in a variety of finishes – metal, glass, etc.  I use something a little out of the ordinary, pocket watch display domes – a glass dome with hook at the top and a wood base.  They work perfectly as an ornament hanger.
Wreath decorations
Hallmark and Enesco creates wonderful ornaments every year.  Some of those ornaments are very collectible and available in different themed series.  Every year another ornament in the series is available and soon you can have a collection of several wonderful themed ornaments.  If you display the collection on the Christmas tree separately, they could get lost with all the other ornaments.  Consider highlighting the collection and displaying them together on a themed Christmas wreath.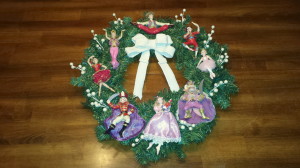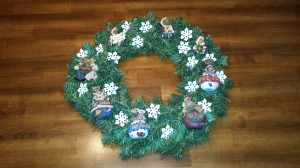 (Please see the Craft post, Christmas Wreaths and More Christmas Wreaths, for ideas and instructions on creating unique wreaths using a collection of themed ornaments – two different Department 56 wreaths using small ornament houses from the Dickens and North Pole collections and also a Disney character wreath.  In addition, there is a lovely Nutcracker Ballet wreath using ornaments found in a local craft store and also a collection of Boyd's Bears ornaments used in another themed wreath)
OTHER USES FOR ORNAMENTS
Tied to a luncheon or dinner napkin, use as a party favor for guests to take home.
Use as a gift wrap accessory and tie to a present for the perfect finishing touch.
Hang from the under a kitchen cabinet as simple holiday decorations.
      NOTE: don't hang too low to interfere with working on the kitchen counters.
Hang from a pine garland to add an extra festive touch to a fire place mantel.
Hang ornaments from garlands draped on top of the bathroom mirrors.
There are so many different ideas for using Christmas ornaments in unexpected ways and you are only limited by your imagination and creativity!!  Please send your comments and suggestions; I would love to hear your ideas of other uses for Christmas Ornaments.