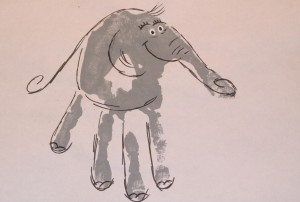 While visiting a local zoo, I saw a cute idea for creating zoo animals with hand prints.  The items for purchase were expensive and I thought I could easily produce some animal prints at a relatively low cost at home and would be a fun project to do with the family.  Several handprints of the same animal are great for the whole family (create a herd of elephants walking across the savannah, a group of monkeys hanging from a tree or a group of ducks swimming on the water)  Be sure to include individual animal prints for separate family members that expresses their personalities. (maybe a lion for the father, a tiger for the mother, a monkey, zebra, giraffe, elephant or flamingo for the kids)  I suggest framing each print in a white mat and simple black frame which won't distract from the colorful prints.  Take the time to label the prints with the names of each family member and be sure to include the year.   Several of these individual prints along with one group print would look great to create an interesting wall display in a family room.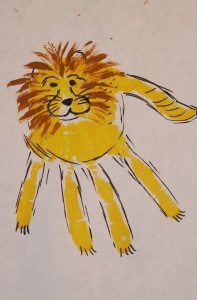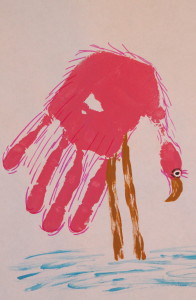 Zoo Animal print – supplies
Washable tempera paint – select corresponding animal colors
Paint brush
Black marker – to write names and date
Set of markers in a variety of colors – for drawing animal details
White paper – several sheets
Paper towels or wipes for easy clean-up afterwards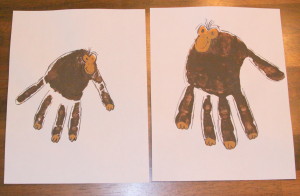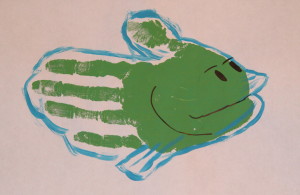 Zoo Animal print – instructions
Decide which type of animal print to make.
Cover the work surface with newspapers or plastic tablecloth

Apply a very thin coat of paint onto the palm of the hand, a minimum amount of paint is preferred for a better hand print, an excess of paint can create one big blob!  Be sure to experiment to determine the correct amount for the hand print.

Once the paint is applied onto the hand, press the hand firmly onto the paper, apply even pressure on the entire hand for a nice print.  When finished, lift hand straight up for a clean and clear print with no smudges. 

Using the markers, create the animal details (such as: the lion's mane, the giraffe's spots, the tiger or zebra stripes, etc.)

Using the markers, create the prints accents (such as: green grass on the ground, a brown tree and green leaves or blue water)  

Be sure to write the name of the family member and also the year when the print was made.

Let the print dry for at least 24 hours.
Once the hand print is dry, mat and frame the print, hang on the wall and enjoy the new art work you created!