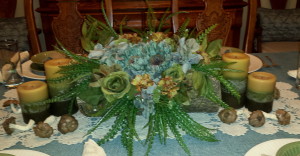 I had mentioned in a previous post, Thanksgiving dinner I used very rustic table decorations for our dining room table.  During the spring my husband and father-in-law were clearing some of the trees in the forest boarding our house.  I noticed they were several logs stacked ready to use in the fireplace this winter.  I decided one of the logs would be perfect to use as a base for a floral centerpiece.  I had also purchased some flowers from a clearance sale at the local craft store and the color would coordinate with my rustic Thanksgiving table decorations perfectly!
Rustic Table Centerpiece – supplies
A tree log
An assortment of artificial flowers
Artificial greenery
Saw and drill
Hot glue gun and glue sticks
Rustic Thanksgiving Table Centerpiece – instructions
Warning: Please use caution when using a saw and a drill for this craft project and wear protective glasses and work gloves
Select a log and cut to the desired length (when selecting a log be sure that it will sit balanced on the table and not tip over)
Cut a space a few inches deep into the of the log, this will be the area used for the floral arrangement
Drill a hole for the greenery stem  (this is an optional step and can be omitted)
Cut the greenery stem to the required length and using the hot glue gun secure the greenery into place.  (Another option is to separate the greenery and glue the individual stems directly onto the log)
Cut the individual stems of the artificial flowers to the desired lengths.  Determine the placement of the flowers.  When you are pleased with the arrangement, glue the individual flowers directly onto the log.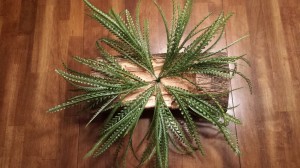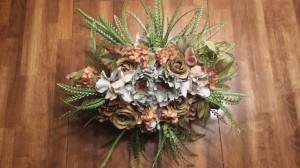 I was very pleased with the floral arrangement I had created and I think it looks very nice as the centerpiece for our rustic Thanksgiving table!