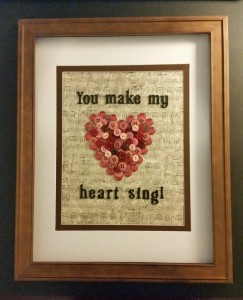 This post is about craft projects that take lots of buttons, lots and lots of buttons!!  Maybe you inherited a box of buttons from your mother or grandmother and are looking for something special to do with them.  Or maybe you are inspired by the button aisle in your favorite craft store and are looking for a craft project to use them.
When I decided to do this button craft project I searched on the internet for some ideas that I liked., the internet is a great source for ideas for all kinds of craft projects.  I usually find ones that I like and then give it my own personal style with the supplies that I select.  Walk the aisles of your favorite craft store to get inspiration for a variety of buttons, scrapbook paper and embellishments.  Be creative and use your imagination to design a personalized button craft project.
So, here are three different variations of craft projects using buttons.  The first used buttons to form a heart shape, the second is a wreath shape and the third uses buttons to form the initial of our last name.  Listed below are the supply list and instructions for all three versions.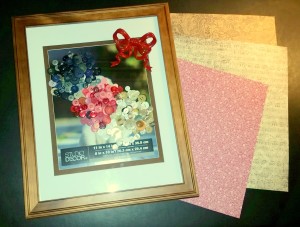 Button Craft – supply list
Buttons – you are definitely going to need a lot of buttons!
Frame
Scrapbook paper
Hot glue gun and glue sticks
Plastic self-adhesive letters – black – I used letters for version #1
Embellishments – I used a plastic bow for the button wreath for version #3
Button Craft – instructions
Disassemble the frame, remove the backing, picture mat and glass, set them aside
Place the picture mat back into the frame
Place the selected scrapbook paper into the frame
Place the glass and the frame backing into the frame and secure it with the tabs provided.  By reassembling the items of the picture frame it will provide a solid surface to work on that will support the weight of the many layers of buttons
Before adding the first layer of buttons I determined the position, this is important to make sure that the buttons are centered properly.  Also this first layer of buttons will help to form the desired shape, such as the heart, wreath or letter initial.  (Craft Tip: I used the dark colored buttons for the first layer to add depth to the finished project)
Continue placing buttons, add several layers and overlap the buttons  (Craft Tip: I started with the larger buttons first and with each layer I added buttons decreasing in size until the last layer used the smallest buttons)

    

After the last layer of buttons is glued into place, add the embellishments.  For version #1 I used the black plastic self-adhesive letters to spell out a clever saying!  For version #3 I used a plastic bow that I found in the Christmas aisle but it had gold glitter paint, I removed the glitter and repainted it a deep red color that coordinated with the red floral pattern scrapbook paper I selected.