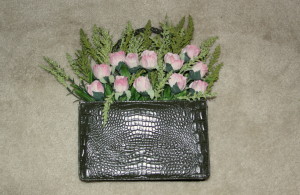 With Mother's Day celebrated this month, why not consider creating one of these floral purses as a lovely gift.  This beautiful floral purse gift would also be a fun idea for a present for a daughter's sweet sixteen or a best friend's birthday.  This gift would also make a great bridal or wedding shower gift and for additional suggestions please check out the ideas at the end of this post.
To get stated creating one of these floral purses, just follow a few easy steps to create this amazing gift!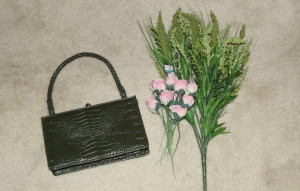 Floral Purse – instructions
To assemble a floral purse gift, the first thing to do is to find a great purse to use as the base for the floral arrangement.  Look for a beautiful purse in a local retail store or consider a vintage purse from an antique store.

Before adding anything else to the purse, fill the bottom with tissue paper or a layer of small glass marbles if you need to add weight to the purse to keep it from tipping over.
Next, depending on the color and style of the purse, add some flowers and greenery to coordinate.  Any type of flowers can be used, such as: roses, sunflowers, tulips, etc.  Don't forget to use some greenery or berry sprays to add some accent color to compliment the flowers and the purse.
Add some small additional gifts.  Consider one or two jewelry items, such as: a beautiful broach attached to the purse or artistically drape a necklace or bracelet among the flowers.  Consider other small gift items, such as: a wonderful perfume, body sprays and lotions or a collection of beauty products.
Finally, be sure to attach a gift tag to the handle of the purse or tuck a birthday card into the flowers.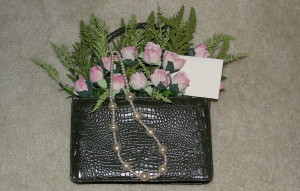 Floral purse gift ideas and suggestions
A fun gift idea for a young girl's sweet sixteen birthday gift is to purchase a fabulous designer bag, add some flowers and greenery.  Next, add some gift cards to their favorite stores or spa and nail salon certificates, tuck them into the flowers for an extra special present.  (The same idea could be used for a friend's birthday gift)
This idea could also be used for a wedding shower gift idea, consider adding gift cards from the store where the bridal couple has their registry.  For a kitchen themed shower, add several kitchen utensils and maybe a couple of favorite or family recipes written out on some cute recipe cards.
For a daughter's bridal shower, consider giving a lovely bridal purse for her to carry on her wedding day.  Think about adding something old, something new and something blue!  A family locket necklace, grandma's broach, a vintage handkerchief or maybe even their first communion rosary for something old.  Something new could be the wedding purse or maybe new earrings, a bracelet or a necklace to wear on the wedding day.  Something blue could be a lovely blue garter or perhaps a pair of sapphire earrings or a blue handkerchief.  Don't forget to put a lucky penny into the bottom of the purse!
For a bridesmaid luncheon, the bride could consider giving matching purses for the bridesmaids to use on the wedding day and maybe artistically hanging matching necklaces among the flowers.  Don't forget to attach a thank you note from the bride letting each one know how much she values their friendship and how excited she is to have them share in her special day.
For a baby shower, use a beautiful diaper bag.  Fill it with a floral arrangement and tuck in several small baby items, maybe even toys.

This idea could also be used for creating a lovely floral arrangement for a bedroom dresser or nightstand for a home.  The floral purse pictured in this post sits on the shelf in my master bedroom closet and it is the perfect decoration for the room!!