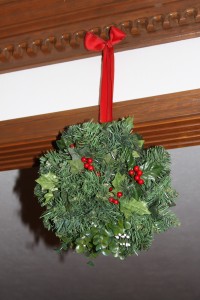 The holly and the ivy have been used in English Christmas decorations for centuries.  The English people in olden days had no retail stores available to purchase holiday decorations so they decorated their houses with the evergreens available in their local woodland and forest areas – holly, ivy, mistletoe, pine and fir.  These plants stayed green all year and became symbols of life during the cold winter months.  They decorated with swags and garlands made of pine and fir boughs intertwined with holly and ivy.  Mistletoe was believed to have miraculous healing powers and was placed over doorways to ward off evil spirits and bring health, happiness and good luck.
An old midwinter custom in English villages dating back to medieval times was to hold a singing contest between the men and the women.  It was a chance for the villagers to gather for celebration, singing and dancing.  Using the holly and ivy as symbols, the men sang songs praising the masculine qualities of the rigid leafed holly while the women sang about the feminine qualities of the softer ivy.  The matter of who won the contest was frequently resolved under the mistletoe where young men of the village had the privilege and opportunity of kissing the girls.  As the couples kissed, they would pluck a berry from the mistletoe and when all the berries are gone the kissing privilege ceases.  (What a charming and romantic story!)
For your next Christmas party try adding some fun and excitement by making your own Kissing Ball.  Hang it in an area of the home where your guests are sure to walk under it – just don't hang it too low so they hit their heads!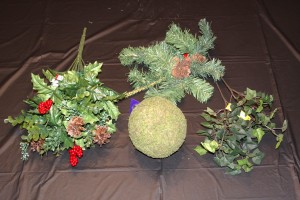 Christmas Kissing Ball – supplies
3 or 4 inch Styrofoam ball (I found one already covered in moss at my local craft store)
Artificial pine, ivy, holly and mistletoe
Artificial red berries
Ribbon
Christmas Kissing Ball – instructions
Cut the pine, ivy, holly and mistletoe into small workable pieces about 3 inches long.
(Check the Christmas floral aisle in your local craft store early for the best selection – sometimes you can buy pre-cut pieces already shortened to the desired length)
Insert and glue each piece of pine, ivy, holly and mistletoe separately.  Evenly space each type of greenery across the entire Styrofoam ball and fill all the empty spaces.
(If desired, hot glue small amounts of Spanish moss to fill any empty spaces)
Insert and glue red berries, scattered evenly across the Styrofoam ball.
When the Styrofoam ball is completely covered, cut some festive ribbon to the desired length for hanging and attach to the top of the ball.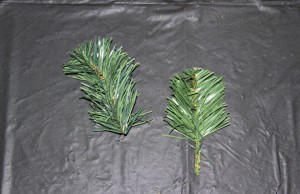 The Christmas Kissing Ball is finished and ready to hang – so, get ready to pucker up!!