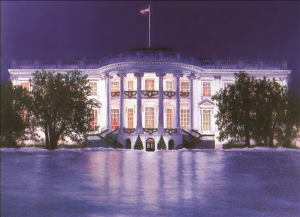 Decorating the White House can be a very challenging project.  It has 132 rooms, 28 fireplace mantels, 412 doors and 147 windows which all need to be decorated.  For example, in 2000 the White House was decorated with 1,120 feet of garland, 50,000 lights, 220 poinsettias and 34 Christmas trees.  This is the reason that planning for the White House Christmas decorations can start as early as July.  At that time, the First Lady will pick the theme for the upcoming Christmas.
Jackie Kennedy is considered to be the first person to decide on a specific theme to decorate the White House for the holiday season.  That theme was the "Nutcracker" and it has been used two additional times over the last 30 years – in 1990 by Nancy Reagan and 1996 by Hilary Clinton. For more details of the White House Christmas themes from 1961 to present, visit the White House Historical Association website at www.whitehousehistory.org
The main focus of the decorations is the official White House Christmas tree and it holds a prominent place in the center of the Blue Room.  The tree usually stands nearly 20 feet tall and the crystal chandelier has to be removed.  The Chief Usher usually selects the tree and it is donated every year since 1966 by the National Christmas Tree Association.  Once the tree is delivered to the White House, the National Park service members will bring the tree into the Blue Room.  The White House Floral Department staff and season volunteers decorate the tree and the various rooms on the first floor of the White House.
Those other rooms include:  The East Colonnade which has a distinctive set of windows that are usually decorated with several wreaths or poinsettias.  The Grand Foyer and adjacent the Cross Hall are such a large space that it can be sometimes difficult to decorate because this area needs to remain open to accommodate the many holiday festivities.  This area usually has several Christmas trees and garlands decorated in the style to fit the theme for the year.  The Green Room's color scheme is perfect for the holiday season.  It is usually decorated with topiaries, floral arrangements and pine garlands draped across the mantel and fall all the way to the floor.  The Red Room's bold color makes it one of the easiest rooms to decorate for the holidays.  Traditionally this room will have a cranberry topiary.  The State Dining Room is used for various holiday special events such as elaborate luncheons and dinner parties.  It can hold any number of tables beautifully decorated with floral centerpieces, place cards and menu cards for the honored guests.
One of the things I like to do every year is watch the HGTV White House Christmas Special.  I love to see how the staff and volunteers decorate the various rooms.  There are always great ideas which inspire me to create something on a much smaller scale for my home.  This year I finally made the cranberry topiary for our dining room.  (Please see this week's Craft post for photos and directions on how I made my own cranberry topiary – it's so easy!)
Watch for the White House Christmas Special on HGTV –
check the HGTV website for your local television listing for the channel, date and time it will be on in your area. www.HGTV.com